Our primary students 'Believe Big'
17/07/2018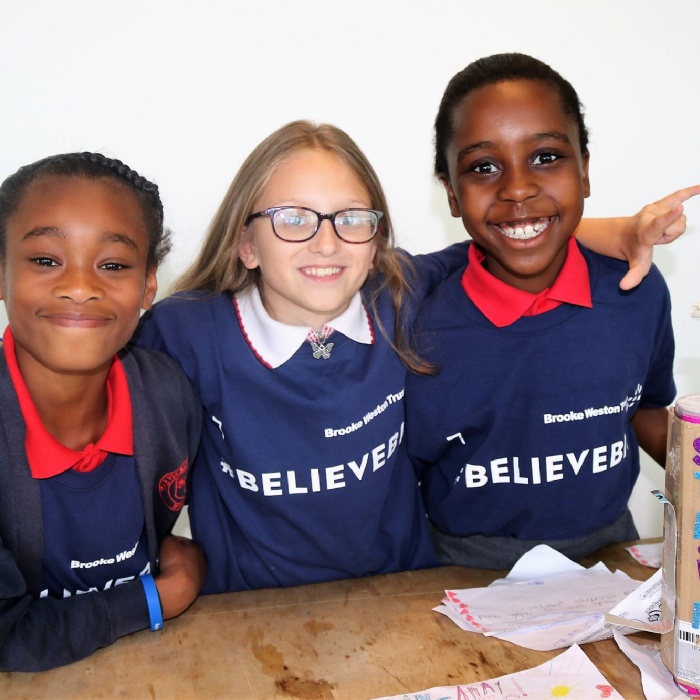 Imaginative primary students from across our Trust developed a huge range of creative products, including an automated pencil case, in-car toilet and flying mobile phone case, in a competition aimed at getting children to dream up innovative or life-changing ideas.
It was the first time that the Believe Big competition, run by 7 Billion Ideas, has taken place, involving Year 4 students from across our Trust primaries. They worked in teams to dream up ideas and develop promotional materials including posters, slogans, models and stories.
Each school held in-school heats before winning teams from each took part in the grand final, held at Rockingham Speedway and judged by a panel including senior Trust leaders, John Henrys, Anne Hill and Leyton Smith plus Pete Kirkbride, Principal of Brooke Weston Academy and Tony Segalini, Kettering Science Academy's Associate Principal.
Well done to teams from Compass, Gretton and Oakley Vale primary schools who won first, second and third places respectively, with awards also being given for best stall, best model and best poster. Everyone who took part received a finalist medal and certificate and all the teams sported Believe Big T-shirts featuring the names of all the schools in the Trust.
David Harkin of 7 Billion Ideas said: 'We challenged all the students to Think Big and Believe Big and there are 14 teams here today. The winning idea is going to be turned into a children's book so the idea will have a legacy. We are going to be working with the team to create a storyline about their idea and the illustrated book will go live into Amazon later this year so anyone around the world will be able to purchase it online. We have now worked with 60,000 students from across the world and are growing each year. This year we have worked with 350 schools in the UK and have also expanded into Europe and the Middle East.'
Announcing the winners, Mr John Henrys, Brooke Weston Trust's Head of Analytics, System Performance and Innovation said: 'I genuinely didn't think it was possible to have so much creativity in one room and all of the judges will agree that what we have seen is nothing short of awesome. Every single idea was superb, they have been so innovative and creative.'
Winners:
1st place: Jackson, Ryan, Olivia and Nell were Team Nothing from Compass Primary and they invented the Mattsie, a onesie with an inbuilt mattress.
2nd place: Millie, Izzie and Immie from Gretton Primary were MII and they built an innovative automated wardrobe that selects clothes and accessories at the touch of a button.
3rd place: Reva, Zorka and Lizette aka the Groovy Girls from Oakley Vale came up with a translation machine to make friends more easily.
Best stall: Emily, Ellie, Junior and Shane, the Awesome Foursome from Beanfield, developed an in-car toilet.
Best model: Deborah, Urte and Adonisa were 'the Legendary team. They invented the Stain Away foldable portable washing machine for camping or caravanning.
Best poster: Bradley, Jan, Kian and Vivien from Beanfield were the Allergy Team who came up with a robot pet for people with allergies.
Here's the amazing ideas from the other teams:
Liam, Chimdy, Ole and Harry from Beanfield were Security Team and their idea was a secure lunchbox with a speaker, and alarmed combination lock.
Amy, Charlie and Leigha from Compass Primary developed a chore robot to do the cleaning while the other Compass team invented Sum Shine a solar powered phone.
Miley, Josh and Sophie from Gretton invented an automatic pencil case to save time when searching for stationery. Their schoolmates Scarlett, Daisy and Charlie developed a table screen so that teachers can communicate with students from the whiteboard.
Oakley Vale's Amelia, Lily and Isabelle were Epic Gravell and they invented time travelling spectacles so people can go back in time and look at different things.
Ethan, Alex and Maxwell from were the #Powerlegends from Peckover who invented a flying mobile phone case and finally Jayden, Abbie and Dan were the Rat Racers whose machine trapped bugs, insects and household pests.
Well done to all everyone. We loved hearing about your innovations!
To see the gallery of pictures from the day click here.