Peckover's themed gardens
23/07/2018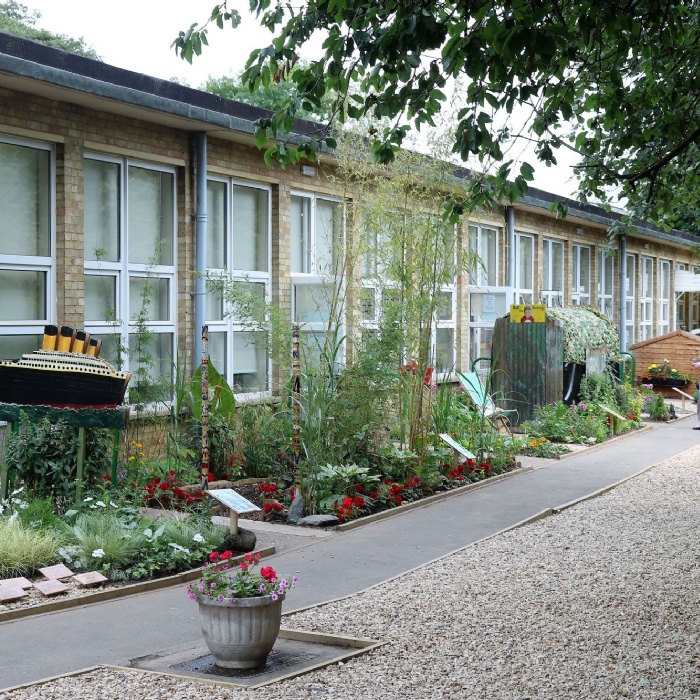 Peckover's newly completed gardens each have an elaborate planting theme specially planned to complement the curriculum.
There's a Percy the Park Keeper plot, a Victorian parterre, a World War Two Dig for Victory garden, a Jungle patch and a Titanic garden with White Star flag and commemorative wreath. There is also a garden dedicated to the memory of former teacher Penny Slater and the gardens were officially opened by her niece, Summer Marriott.
They were designed by staff member Lou Tombleson who is a very keen gardener and plantswoman. The school was approached by Wisbech in Bloom, to develop a neglected patch of land at the back of the classrooms. The school worked to a tight schedule and, together with staff, students and parents, transformed the site in just six weeks.
Their progress has been filmed by a TV crew and will feature in a programme next year. The garden has also been visited by Anglia in Bloom judges who will announce results of their competition in September.
Brian Massingham , the Chair of Wisbech in Bloom said: 'This garden is absolutely fantastic. When we came here we realised it was going to be a lot of work. However we didn't realise we had a Mrs Tombleson here. She's fantastic and has got such imagination. The finished result is a credit to the school. The imagination that has gone into each one has been really good!'
Penny Stocks, Secretary of Wisbech in Bloom, added: 'The garden is marvellous. We never dreamed it could turn out as nice as this. It's imaginative and beautiful, planted with unusual plants. The children will always remember this and they will all probably have really creative gardens when they get their own places!
Student Amber-Mae from Year 1 said: 'All of it is beautiful.'
Lauren Clarke who works at the school said: 'The garden has been absolutely transformed. It is such a lovely place to come and sit outside and it is great to come and see the children enjoying it.'
Mrs Slater's mum Sheralynn said: 'This was the first school that Penny was at since she left university and she was here for about six or seven years. She planted the tree with the children when she was told she wasn't going to survive, so it means a lot to know that the garden has been planted her in her memory.'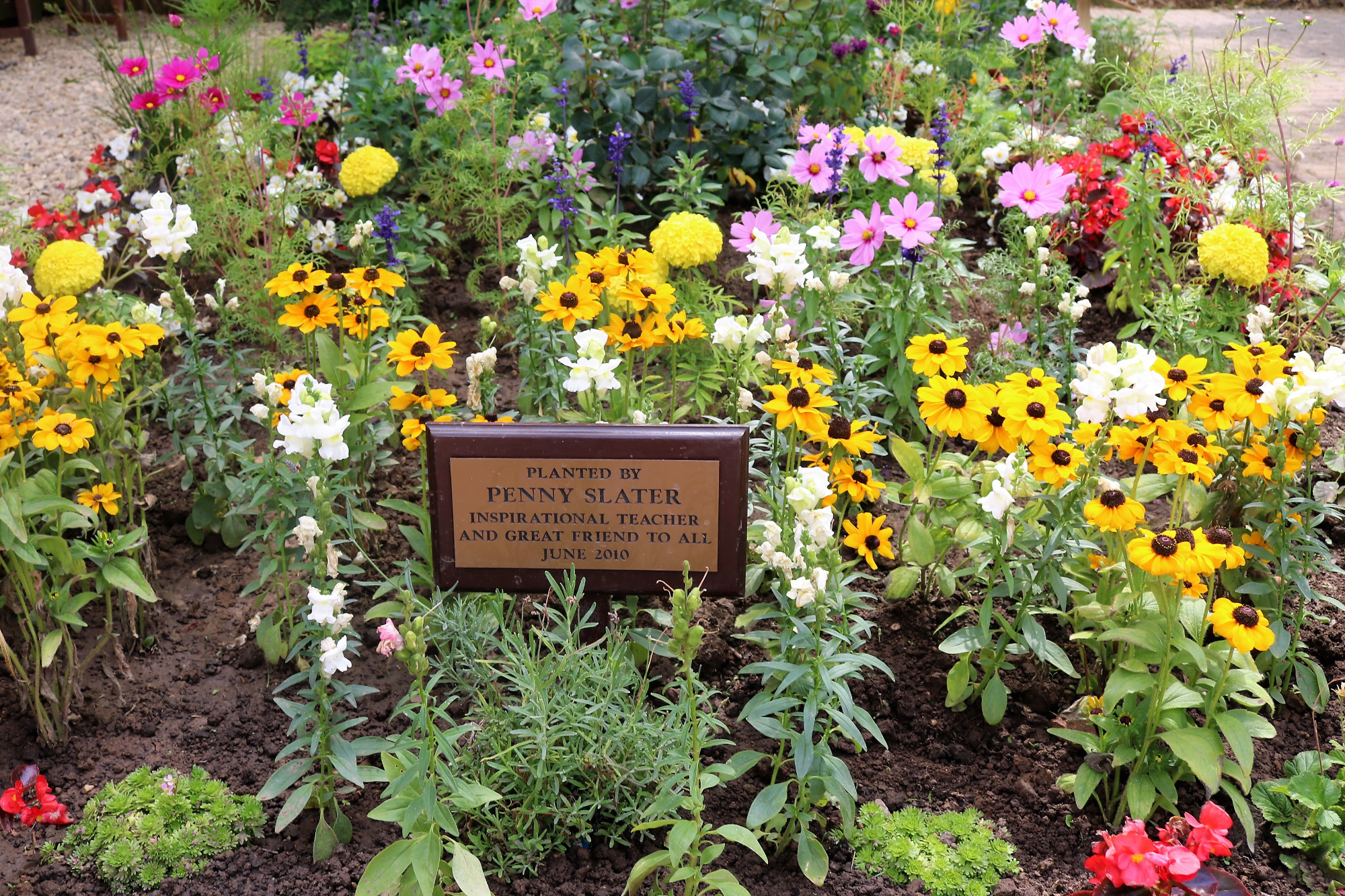 Mrs Slater's garden is at the front of the plot and it features the Cornus Kusa tree she planted, plus lots of colourful flowers including cosmos, rudbeckia and antirrhinums. There is lots of pink in the garden as that was Penny's favourite colour.
The Titanic garden features plaques of the names and dates of genuine passengers on the liner. There were different coloured grasses planted in proportion to represent the crew, third, second and first class passengers. The school also counted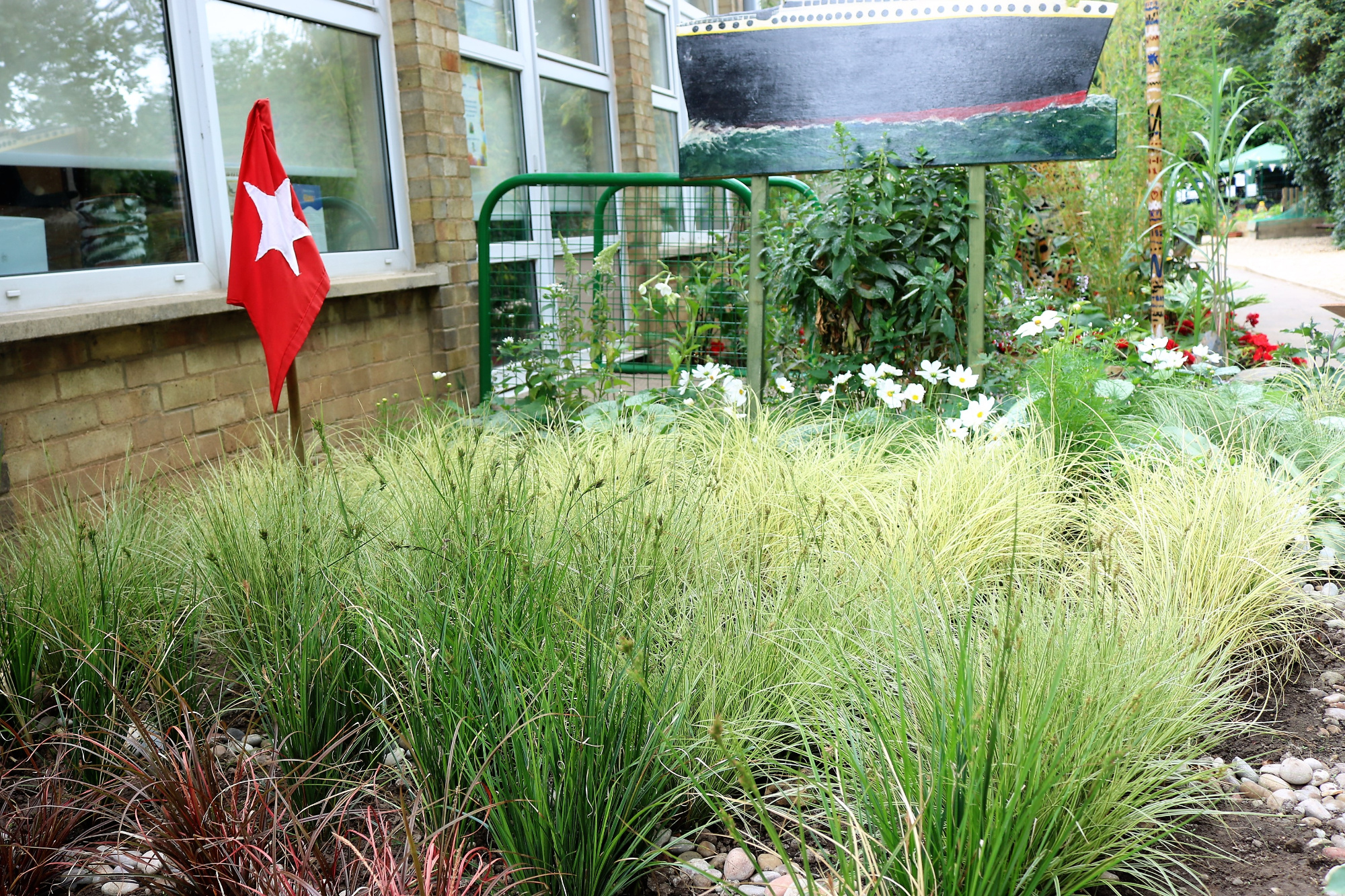 out 1,500 pebbles, one for everyone on board. The planting scheme includes a white buddleia to represent the iceberg.
There is also a commemorative White Star flag and a wreath made from handprints of the Year 6 students, and each has a prayer on it. The planting represents ice and water with plants including brunnera, pumonaria and blue geraniums.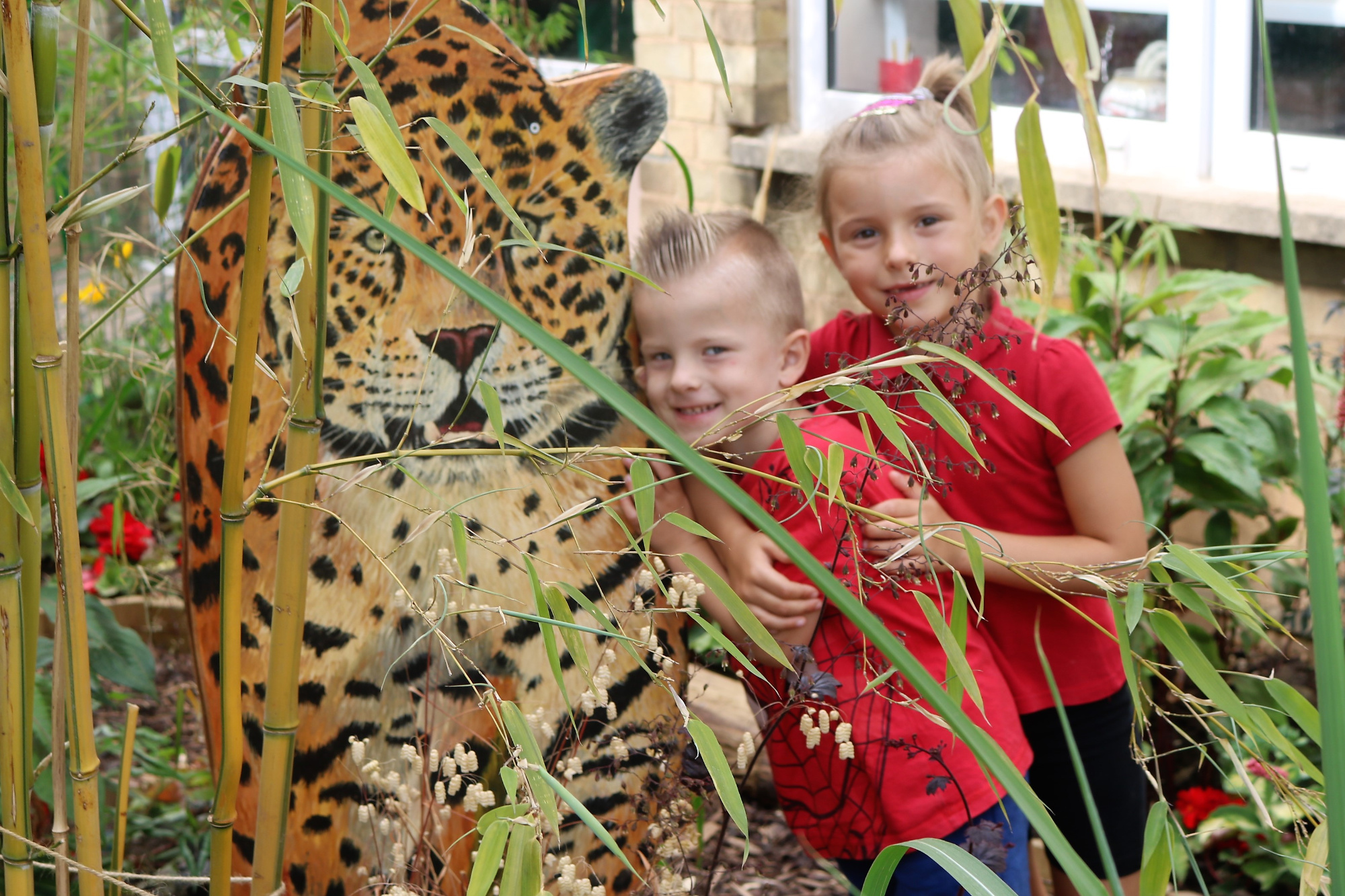 The Jungle Garden is full of plants that will grow to a vast size to really give students the experience of being in an overgrown, lush forest. The grasses will grow to seven food and one of the plants will have leaves as big as dustbin lids! There are tribal poles, pictures of a tree frog and jaguar and stones that have been hand painted with animal markings by the students.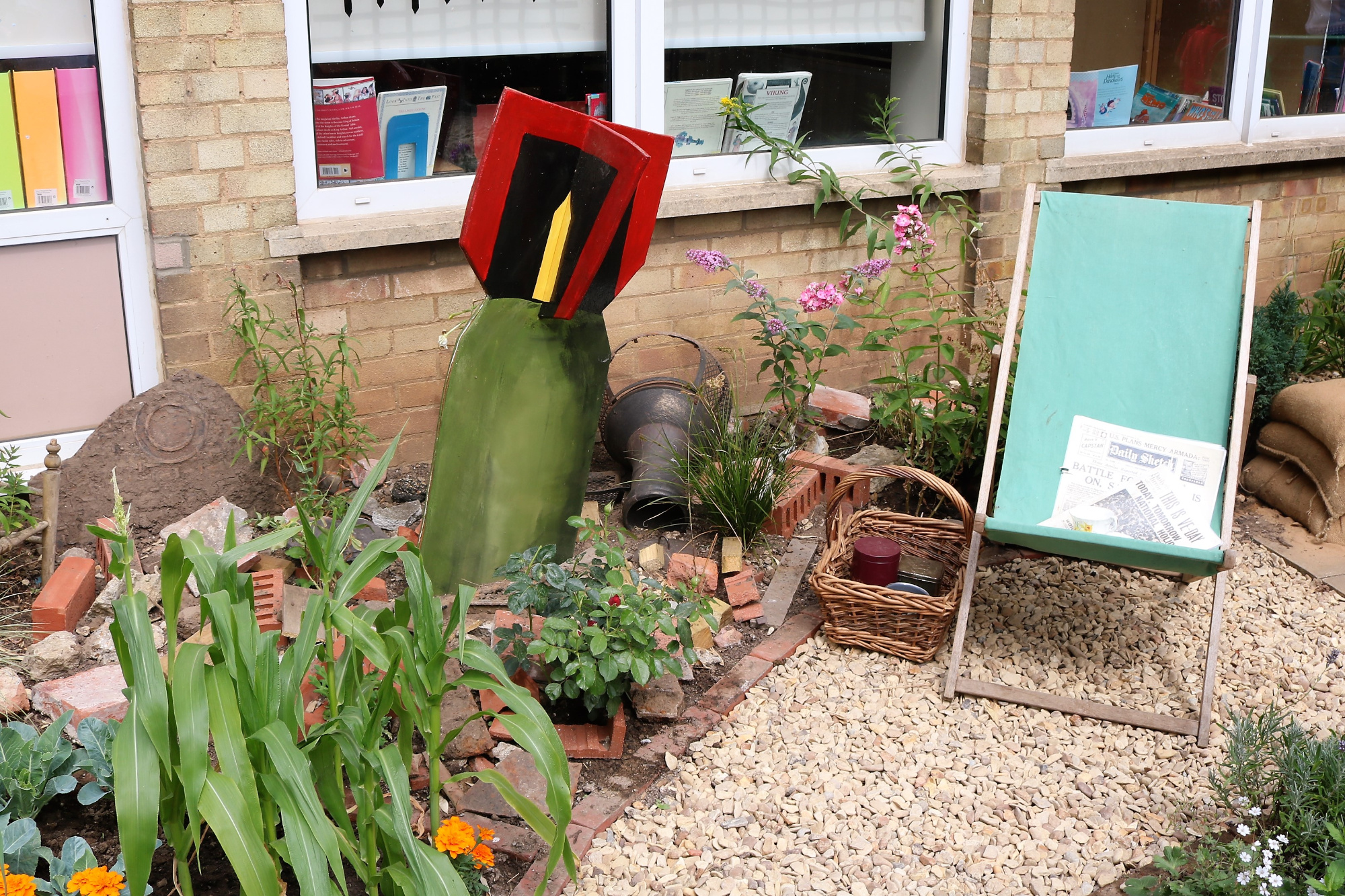 The Dig for Victory garden represents the destruction caused by the Blitz and there is a model of an unexploded bomb among the cottage garden and vegetable plants. The school has also planted two red poppies and a red rose for remembrance and the garden also has a deckchair, cup of tea and discarded newspaper as its owner ran for cover in the Anderson shelter when the bomb fell.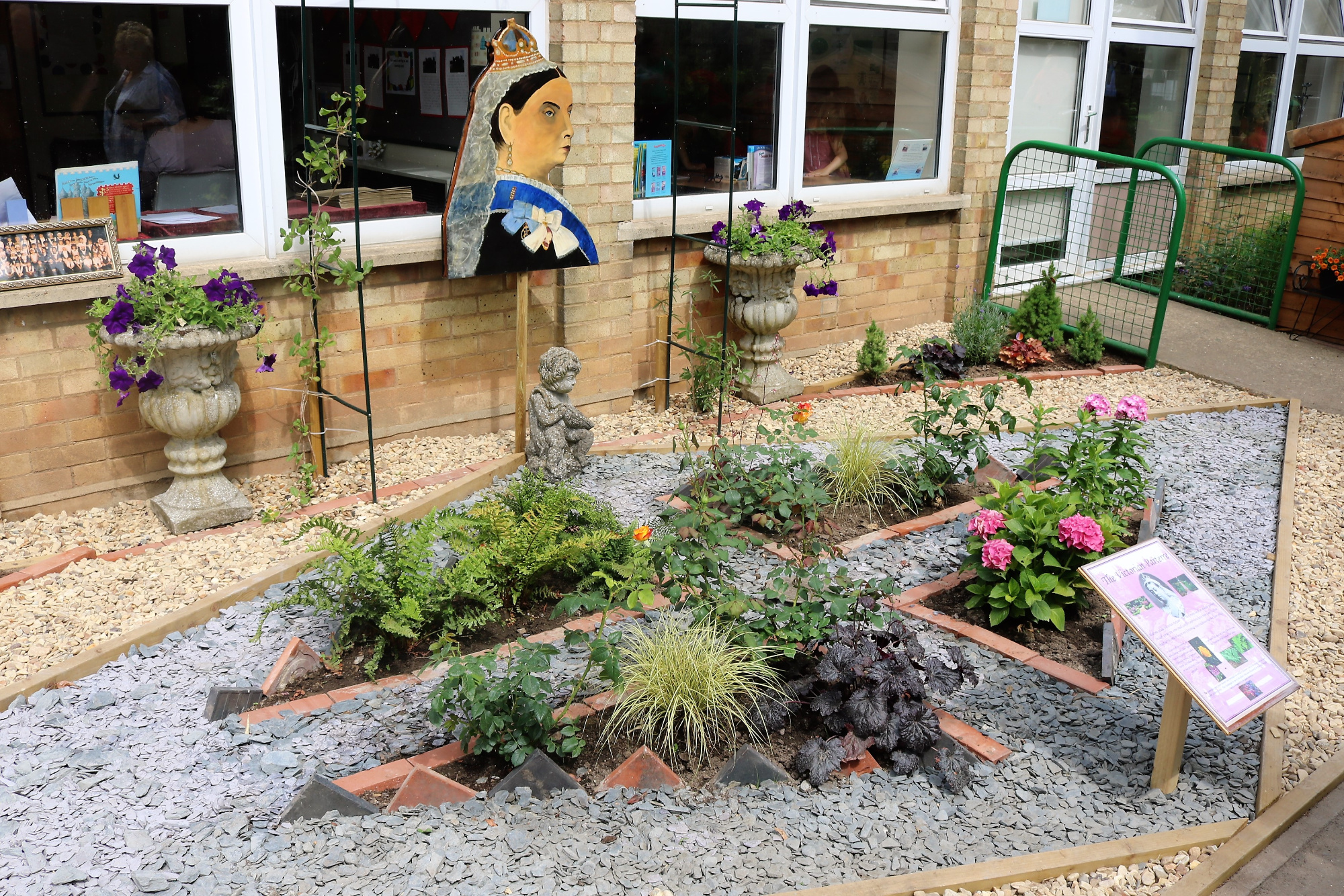 The Victorian parterre is split into ordered sections as the Victorians liked structure in their gardens. There are conifers to represent their love of Christmas and hydrangeas, originally from Asia to signify their role as plant hunters, bringing exotic species back to Britain. Yellow and Purple class each have their own special rose and there is a Victorian themed photograph, plus a sundial to complete the look.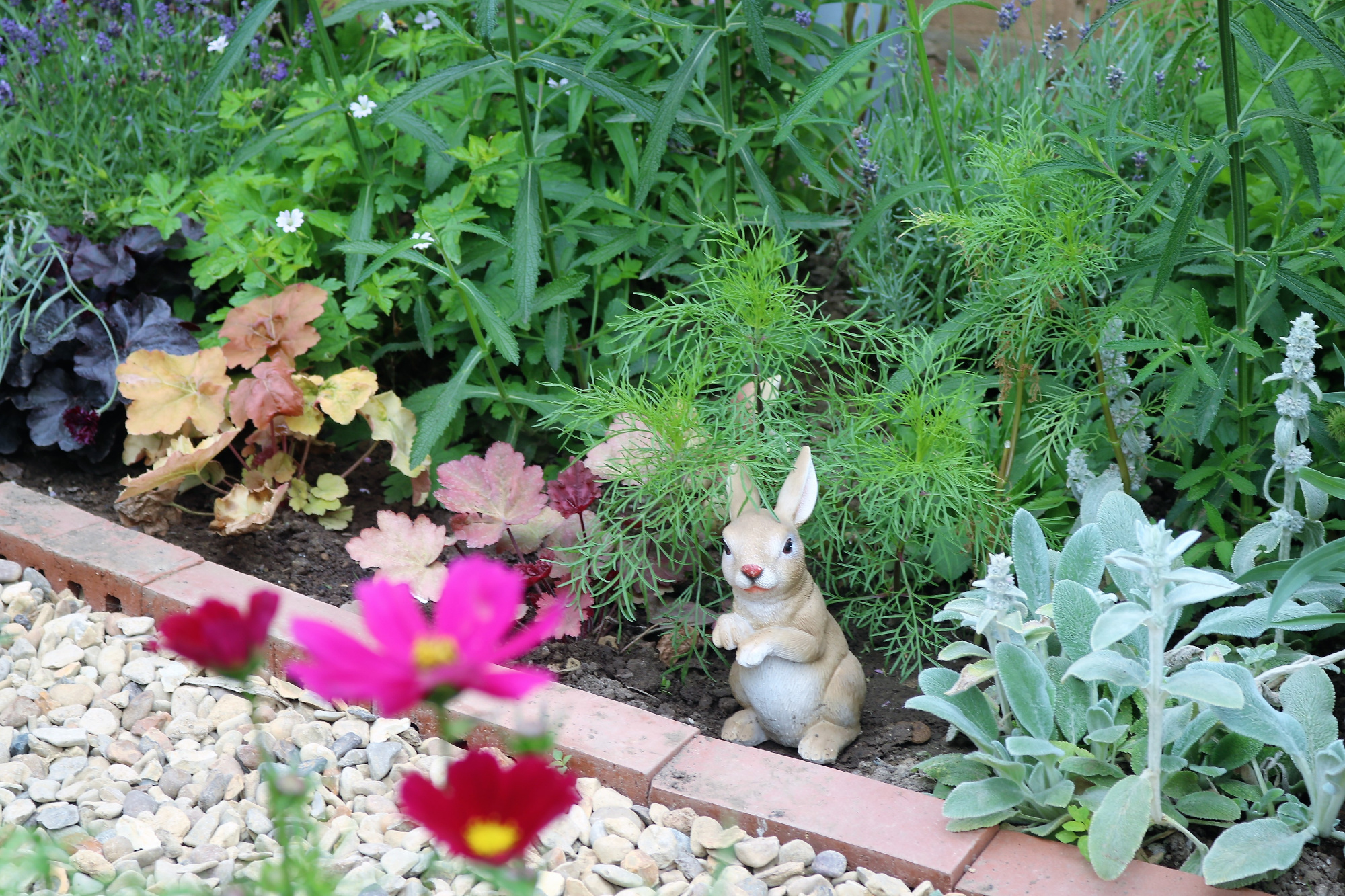 Finally Percy the Park Keeper's garden is a haven for wildlife with its pretty planting scheme. It has a shed, a pair of wellies planted up with flowers and a bird bath. There are ornamental animals in the gardens for children to spot, plus a bird box too.
At the official opening Principal Carrie Norman told students, staff and parents: 'Only six weeks ago the back of the school was a really sorry state of affairs. The BBC said they wanted to film a gardening project so Penny and Brian invited us to take part but said the judging was on July 18. The next morning I said to Mrs Tombleson "We have got six weeks to transform this area - we cannot let the Wisbech in Bloom team down!" The next day she came back with these amazing designs. Thank you to so many of you who came to help the children, Mrs Tombleson and so many staff. Thank you to the nurseries who have donated so many plants too. It has been an absolute team effort but it's mainly down to Mrs Tombleson!'