CCF cadets train at Annual Camp
14/08/2018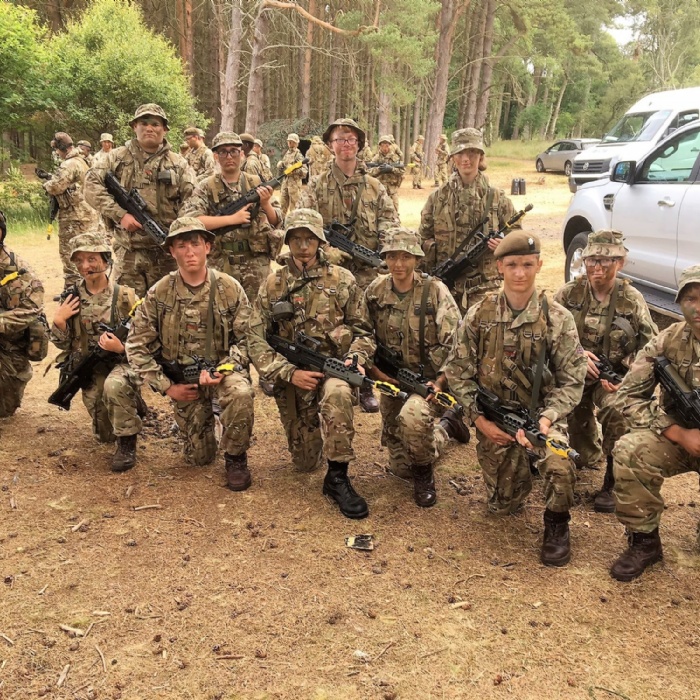 Brooke Weston Trust's CCF cadets had an action packed annual camp at Barry Budden near Carnoustie in Scotland. The 37 cadets took part in activities and sports including range shooting and mountain biking during their week-long adventure. There were about 400 cadets from different schools on camp and our contingent combined with 30 cadets from Montsaye Academy to form C Company.
Capt Matt Isherwood said: 'There was a full programme of activities that included a military skills day, a range day and a two day exercise when Sgt Courtney Mountford from Brooke Weston Academy ran the operation herself and had to dispatch out reconnaissance patrols on day one to determine the enemy's movements. She then pieced together the information to prepare for missions that night and the main platoon level assault took place the following morning. She was personally commended by Brigadier Lowe who is deputy commander for land forces cadets. The last day comprised adventurous training when the cadets did activities including mountain biking, coasteering and Tyrolean high ropes.
'The cadets conducted themselves in exemplary fashion. The senior cadets and CSgts Mathieson and Sammons were simply superb and took the roles of platoon sergeants in an advisory role and made sure that everything worked well.
Lieutenants Brian Hebberd and Andy Howell who both volunteer with the CCF contingent each received their Commissions, which are printed on parchment and signed by the Queen. The Commissions were presented by Maj DM Harvey, OC Cadet Training Team during the Annual Camp.