Two Trust Academies celebrate best-ever results
23/08/2018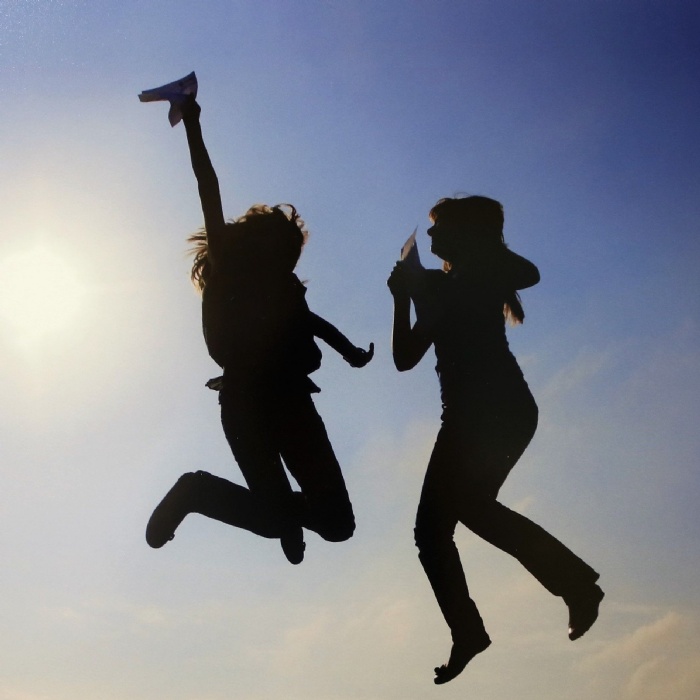 Well done to students from across the Brooke Weston Trust who are celebrating their GCSE results today. Both Thomas Clarkson Academy and Kettering Science Academy have recorded their best-ever GCSE exam results. Brooke Weston Academy is celebrating yet another outstanding year while Corby Technical School is also delighted with their second-year results, which are impressive, particularly in core subjects areas. Corby Business Academy students also did very well in subject areas including computer sciences, biology and languages with many outstanding individual performances.
This year has marked a significant reform to the current GCSE system where all subjects are now graded on the new 9 – 1 system where scores of 9 to 5 indicate strong passes and 9 (the highest level awarded) exceeds the former A* GCSE grade. Many of our students achieved GCSEs at the highest grade.
At Kettering Science Academy the number of students achieving five or more strong passes (9 to 5 grades) including English and maths was 33% of the 205-strong cohort. There were strong performances in Maths and Science, mirroring the success of the A Level cohort just a week earlier. Languages also had a good showing and were among the strongest performing subjects. Overall the average student performance has increased by half a grade in every subject with almost 50% of students achieving a grade of 5 or more in English and maths. The Pupil Premium figure has increased from last year, meaning that KSA is 'adding more value' to disadvantaged students and making more of a difference to their academic outcomes. There were strong individual performances, with the top ranked student awarded eight grade 9s and a grade 7 GCSE and many others achieving top or good passes in eight or nine subjects each. Many will stay on at the school for Sixth Form study.
Associate Principal Tony Segalini said: 'Following on from the success of our A Level results I am really proud of both our students and staff at Kettering Science Academy. We have really proved that KSA has empowered them to be the best that they can be, and that this Academy provides a quality education for all students.'
At Thomas Clarkson Academy the school is celebrating the best GCSE results it has ever seen, with improved grades for the second year running and increases in the number achieving 'strong' passes in English and maths.
The results demonstrate the Academy's determination and drive to improve outcomes for young people in Wisbech. Many of the cohort will be staying on to further their studies at the Academy's Sixth Form.
Associate Principal Richard Scott said: 'We're very pleased to see results improve for the second year running. We're seeing a steady, sustained improvement which is opening up more options for our students. Something we're particularly proud of is the progress students have made from their initial starting point – we're now seeing more and more young people making good progress.
'These results help to put students in good stead for their future studies and we're delighted to be welcoming many of them back in September for Sixth Form. Congratulations to our students and thanks to our staff, who have worked tirelessly to secure the school's best-ever results. We have also had lots of support from parents which builds a stronger school community.'
At Brooke Weston Academy 85% of Year 11 students secured grades 9 to 4 in English, 85% in maths and 91% in science. The new 'strong pass' or grade 5 also saw impressive outcomes with 73% in English, 69% in mathematics and 82% in science. 32% of all grades were awarded A*/A, or the new equivalent 9 to 7 measure, and over 8% achieved the new 'A**' grade 9 with 126 grades awarded across all subjects.
There have been exceptional individual performances with two straight 9 students and the top four achievers awarded nine A*/9/8 grades each. The next three highest performers are celebrating 29 A*/9/8 grades between them.
Principal, Pete Kirkbride, said: 'Once again I am completely delighted with the Brooke Weston Academy results and it gives me huge pleasure to congratulate all of our students on their fantastic achievements. The success of our students is a testament to their determination, especially with the more challenging reformed GCSEs. I remain tremendously proud that we continue the mission to ensure that every student, regardless of their starting point when they arrive at Brooke Weston Academy, maximises every opportunity to make exceptional progress. I would like to take this opportunity to thank all staff and parents for their relentless support. I feel privileged to be part of such an inspiring school community.'
At Corby Technical School the cohort of students made excellent progress with the best overall subjects including English, maths and computer science. The figures represented an excellent set of results, especially given the relatively small number of the cohort, which comprised just 71 students. Many achieved 9s in core subjects of Maths, English Language and Literature and nearly 75% achieved 9 – 4 grades including English.
Principal Angela Reynolds said: 'I'd like to congratulate our students, particularly those who achieved top grades as they worked very hard to attain these excellent results. These students have made very good progress from when they joined us. I'd like to thank all the staff at Corby Technical School who have worked tirelessly to ensure that these students have the best opportunities, not only in academic subjects, but also in crucial life skills and opportunities.'
At Corby Business Academy the strongest performing subjects were languages, computer science and biology. More than 50% of students achieved five or more 9 to 4 graded GCSEs including English and maths with over 70% of the cohort achieving five or more 9 to 4 grades, including English. Many are expected to continue their studies into the Sixth Form, which, this year, recorded a 100% pass rate for students achieving A* to C grades in creative writing, further maths and history.
Associate Principal Janina Taylor said: 'Congratulations to all of our students who are celebrating their GCSE results today and thank you to the staff who gave them support and encouragement throughout their studies.'
Secondary Executive Principal Anne Hill said: 'I would like to commend our schools on these results which highlight the commitment and dedication of our students and teaching staff. I am particularly delighted for those who have attained or exceeded their expected grades and I look forward to continuing to work closely with my Trust colleagues to implement strategies which will drive up results still further.'
Dr Andrew Campbell, CEO of the Brooke Weston Trust, said: 'I'd like to congratulate staff across our secondary schools, as this year's results are testament to the hard work that the students and teaching staff have put in over the past few years. I'd particularly like to acknowledge all those at Thomas Clarkson Academy and Kettering Science Academy who have shown consistent improvement and are celebrating their best ever results. I look forward to the majority of our students returning to study with us in Sixth Form as the results they received today will lay the foundation for their future success.'