Peckover Primary School thrilled to win Anglia in Bloom Award
24/09/2018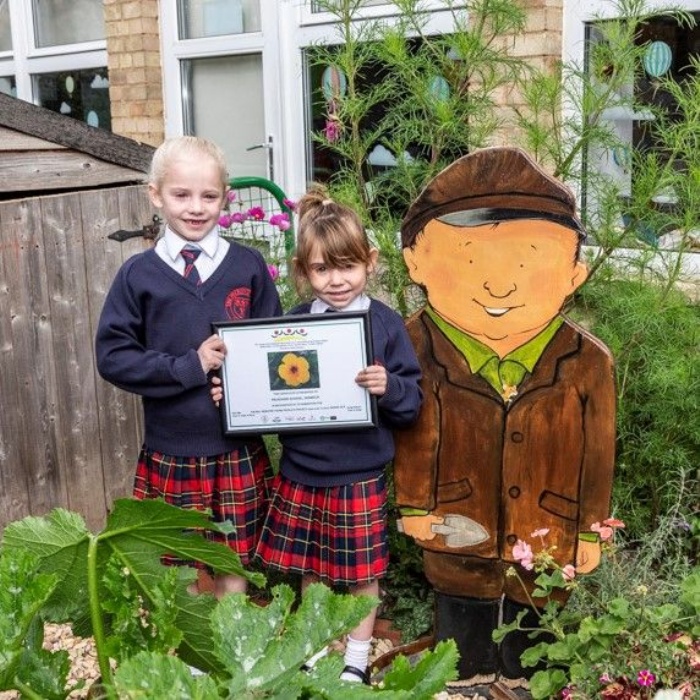 Peckover Primary School is delighted to have been awarded the 'Bill Webster Young Person's Project for Under 12s' prize in this year's 'Anglia in Bloom' competition.
The school developed a neglected piece of land outside its classrooms into a stunning series of themed gardens that tie in with their curriculum topics.
Staff and students were first approached by the 'Wisbech in Bloom' team to do a garden project to support the town's competition bid and, just six weeks later, the themed gardens, designed by the school's inclusion manager, Lou Tombleson, were complete. Staff, students, parents and volunteers all pitched in to bring the vision into reality. There's a Percy the Park Keeper plot, a Victorian parterre, a World War Two Dig for Victory garden, a Jungle patch and a Titanic garden with White Star flag and commemorative wreath. There is also a garden dedicated to the memory of former teacher Penny Slater.
The gardens were officially opened just before the summer holidays and progress on the project has also been filmed by the BBC for a programme which will be aired next year.
Mrs Tombleson said: 'We were absolutely thrilled that we won the Bill Webster Young Persons Project Award. Our gardens helped gain points for Wisbech to win Best Large Town and overall winner of the Anglia in Bloom Trophy, as well as Best Overall Entry. This means that Wisbech in Bloom can enter the Britain in Bloom judging to be held later this year. The Wisbech in Bloom team including the Chair, Brian Massingham and Penny Stocks, the Secretary, came along to present us with our award.'
Principal Carrie Norman said: 'Developing these gardens has been a massive undertaking for the school, but they have transformed our outside space into beautiful learning environments for the students that will continue to develop for years to come. The whole school is thrilled to have won this award and I'd like to thank all those who were involved in the project, including the Wisbech in Bloom team for challenging us in the first place, through to parents, staff and students who worked so hard in their spare time. Finally a huge thanks to Lou Tombleson whose amazing designs and planting schemes have given us award-winning gardens to be proud of.'