Beanfield's Sarah Fleming wins education award
26/09/2018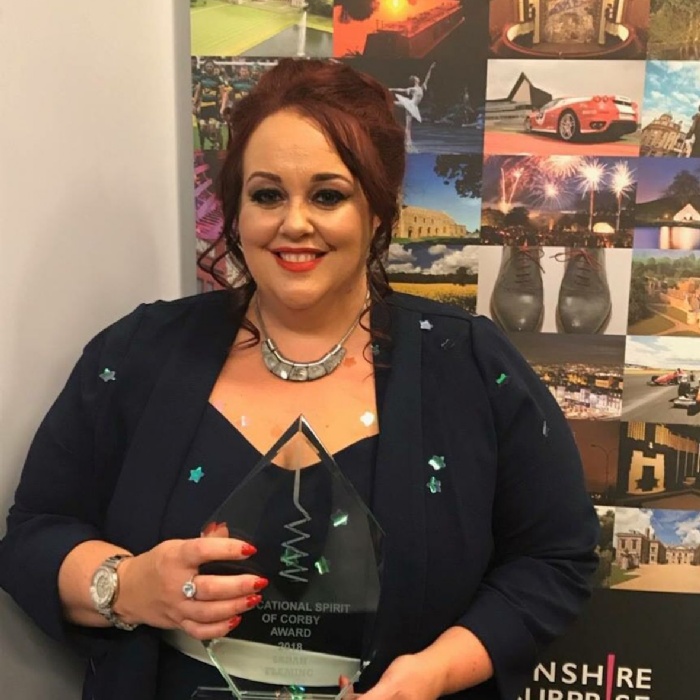 Congratulations to Sarah Fleming, the Wellbeing Manager at Beanfield Primary School, who has won the 'Spirit of Corby Education Award' for her role providing a safe and nurturing environment for all students at the school.
Sarah has long links with Beanfield as she spent her entire education from nursery to age 16 there. After early career roles including childcare, nursing and social care, she returned as a learning mentor and now heads up both the Wellbeing and Extended Provision teams, as well as sitting on the Senior Leadership Team.
She is also taking on the additional challenge of a part time degree course in social care practice, a new three year-course delivered by the University of Bedford, so she will be able to apply all her experience at school to her degree study:
'It is really exciting as I do lots of welfare and social care day to day so I am looking forward to the challenge of doing the degree. It will take up four hours for an evening a week for the next three years. There is always something new to learn, and I wanted to put everything I have learned into this degree and see where that takes me.'
She is delighted with the Spirit of Corby Award but, as she leads 12 colleagues across the Wellbeing and Extended Provision teams, she sees it the award as a shared accolade for all the good work that Beanfield does:
'I am really pleased, really overwhelmed and humbled as well. This award isn't about me as we're a team at Beanfield and we listen to every child, care for all of our children, nurture them and educate them. We believe in every child.
'It is really hard to evidence what you do every day because a smile, or a high five, or an "are you ok?" in the corridor just means that the child knows that someone cares, so I am privileged to be recognised and part of this team at Beanfield and it is an honour for our family and children as well.
'Here at Beanfield we have a huge spirit, nothing is too much trouble. It is a massive team and we go over and above. If a family is in desperate dire straits our staff members will rally around and get everything they need, whether that is a family unexpectedly being evicted, a house fire, or some other issue affecting them.
'Every child should know that somebody cares about them, that is fundamental. In education a child can come in and we have no idea what has happened to them. Have they had breakfast or witnessed something awful the night before? We need to think about the whole child all of the time. I have amazing people surrounding me and nothing is too much trouble for them. That support is absolutely vital. To actually have this recognition is heart-warming. You have to deal with such challenging situations sometimes, which can be difficult, but this recognition and the team spirit that we have at Beanfield makes it all worthwhile!'