Corby Red Box project launches at Corby Technical School
10/04/2018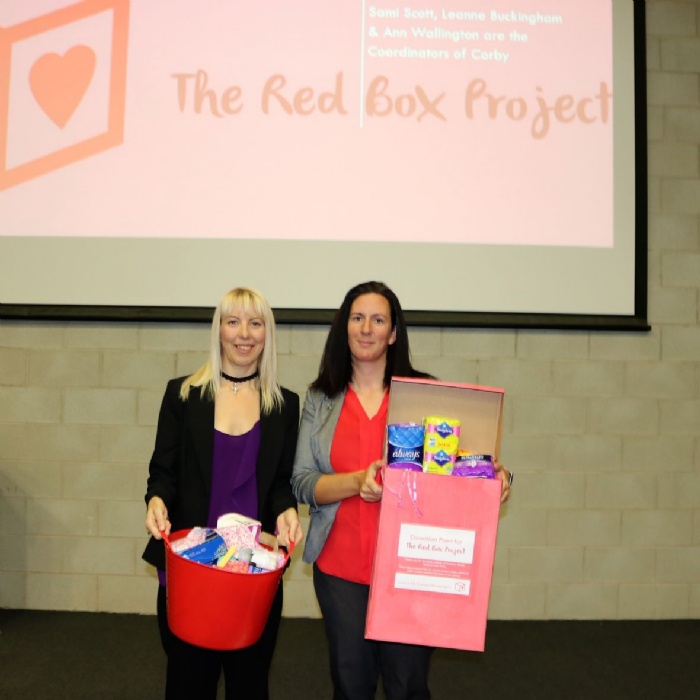 Corby Technical School was delighted to host the official launch of the Corby Red Box Project, the local branch of a nationwide initiative that ensures that no young woman misses out on her education because of her period.
Local organisers Leanne Buckingham, Sami Scott and Ann Wallington spoke to students about the scheme and Heart Four Counties Radio came along to interview them and some students.
The Brooke Weston Trust schools will be supporting the project by setting up collection points so that packs of sanitary items and new underwear can be donated and distributed. The young men and women, from Years 9 and 10, heard that the Red Box Project began in March 2017 when three friends from Portsmouth were reading about Period Poverty, meaning that young women were missing out on their education because they couldn't afford the products they needed during their period. The Red Box movement spread nationwide with groups of people setting up schemes across the country.
Leanne and Sami said that nationally 10% of students are unable to afford necessary products, 15% struggled to afford them and more than 12% have had to use alternatives to regular products.
Martine Boyd, Brooke Weston Trust's senior education and welfare officer said: 'This is a hugely worthwhile project and we are delighted that the Corby Red Box team has launched the scheme at our schools. Period poverty is a real issue for some students and this is a discreet and sustainable way of ensuring they get the items they need in an accessible location. We are hoping that people will fully support this by donating items regularly as just a pound or two extra on their shopping bill will make a huge difference to some of our most vulnerable students.'
Student Maddie McGee said: 'This is a really great project because it can be embarrassing for a lot of young girls and it can be new for some girls as well. It is such a shame that so many young women don't have the right supplies to keep them going. I'd definitely support it.'
Afterwards Leanne Buckingham said: 'The young people in CTS have blown me away! The ones I had the chance to meet were so knowledgeable, confident and genuinely strong in nature.'