Beanfield students see best-selling author Peter Brown
10/09/2018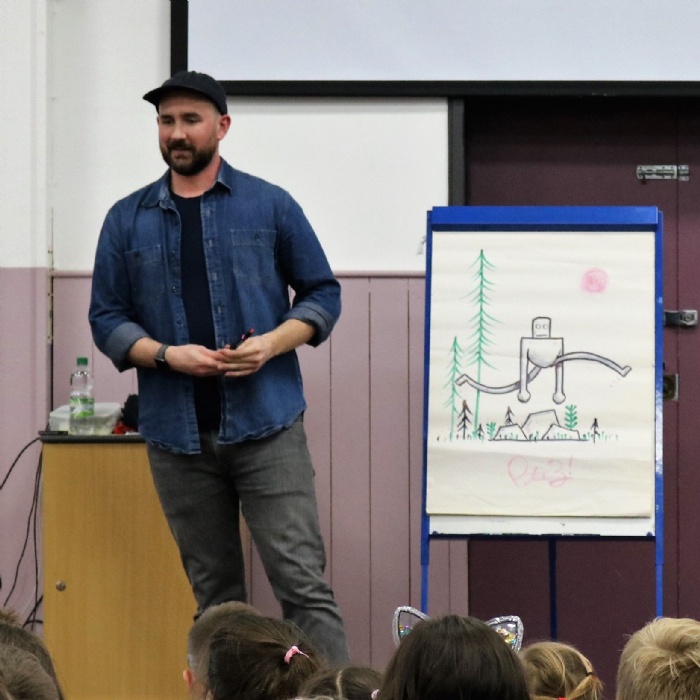 New York Times bestselling author and illustrator Peter Brown visited Beanfield Primary School as the last stop on his UK-wide promotional tour, talking about his latest book, 'The Wild Robot Escapes.'
He told students how his love of art began early and he was inspired by his grandfather who was an artist. He wrote his first book, about his tree-climbing dog, Buffy, aged just six. He showed students his early illustrations and spoke about his love of animation and Disney movies and how he was inspired to study illustration at college.
'When I went to university where I studied drawing, painting and writing, I took a class in illustrating children's books and I just had so much fun. I got to come up with different art styles and adventure stories and come up with my own characters. I changed directions and started to write stories.'
Peter has had several books published in both America and the UK and had a previous title longlisted for the Greenaway Medal in 2015. He spoke to students about his latest books: 'The Wild Robot' and 'The Wild Robot Escapes.' He first came up with the idea of a robot who exists in the wild when, years earlier, he had done illustrations for an earlier book and had drawn a robot standing alone in the pine tree. 'You put those two opposite things together and it seems like there's an interesting story in there somewhere. I kept thinking about that robot. Why would that robot be in a tree in the wilderness? I had all these funny questions popping into my imagination. I spent about five or six years writing and illustrating other picture books before I finally had time to think seriously about this robot nature story.'
He started studying robotics and animal behaviour and psychology: 'There were lots of cool things about nature and technology interacting and I realised this was not going to be another picture book, it was going to be my first novel, about a robot struggling to survive in the wilderness. What would an intelligent robot do alone in the wilderness?'
He invented Roz the robot and planned the book out in small chapters and did lots of possible illustrations before deciding on exactly the right words and pictures, which he worked on in minute detail.
Peter showed students some of the time-consuming process he goes through when designing pages, from initial sketches through to the finished computer generated design. He showed how he built up the cover of his second book, 'The Wild Robot Escapes' in layers.
'The first book is about Roz learning to survive in the wilderness, the second book is about that same robot learning to survive in civilisation. In this book Roz finds herself working on a farm. I wrote 80 short chapters for my first book and 90 short chapters for my second book.' He told students about the writing and editing process and how he works with his publishers, Piccadilly Press.
He gave students a masterclass in drawing Roz the Robot and showed how they could build up a simple picture by using simple shapes and shading and finally he took part in a question and answer and book signing session.
Corby Business Academy's Librarian, Amy McKay said: 'I'm lucky to know some very kind people in the children's book world and was asked if I could recommend a school for Peter to visit. Beanfield was the perfect choice!'
Beanfield teacher Miss Carey said: 'The students were absolutely enthralled with Peter's talk as he spoke with real passion and clarity about how he comes up with ideas and goes through the writing and illustration process. What was really special was that he emphasised how his love of drawing and illustration began at a young age and so that will inspire them in their own reading and writing projects. I'd like to thank Peter, Piccadilly Press, Amy and everyone else who made this talk a reality. It really was an amazing opportunity to see a best-selling American author in Corby and one which I am sure our students will remember for a very long time.'
To see a photo gallery of the event click here.