Trust delegates have inspirational session with Leadership coach
10/12/2018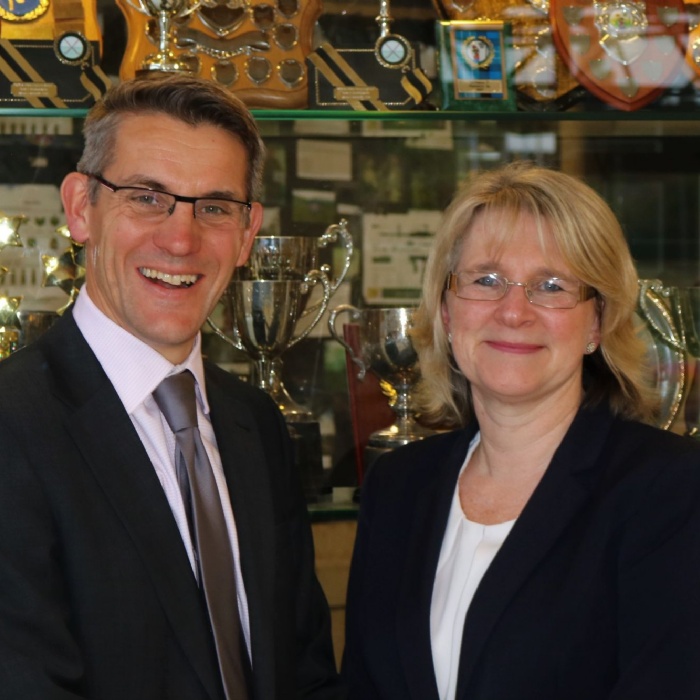 Leadership coach Martin Carter led the first session of our new Leadership Academy, speaking to delegates about the skills, strategies and behaviours needed to step up from management to leadership.
The session explored what it means to be a leader. 'We often use the terms management and leadership interchangeably' Martin explained, 'but actually they are quite different. These delegates are all experienced, capable, confident, and effective managers and teachers; they have well developed management muscles. It's tempting to think that leadership is simply about making these muscles even bigger. In fact leadership requires us to flex a different, albeit complementary, set of muscles.
'Let's take line management as an example. People generally accept that they have to comply with their contractual terms and conditions and that, as their line manager, it's your job to make sure they can and do. Hence by using your management muscle you can make people work to an acceptable level and deliver an adequate performance, but you can't make them do a great job. All you can do is create an environment which they themselves choose to be great in. This means using your leadership muscles to first create an environment in which people can flourish, grow and choose to be the best they can be and then motivating and enabling them to be courageous and go for it!'
'For anyone working in an ambitious school like those across BWT this will all sound very familiar, because it describes the learning environment that you seek to create for every student. So in this respect every successful teacher has already got some pretty well developed leadership muscles. And these delegates are all great teachers. The challenge is not that they don't know how to lead, the challenge is making the time to lead beyond the classroom.'
'So the question we asked during the session was 'how we can turn up in leader mode more of the time?' We focused on three specific practices:
'The first was noticing. Jan Carlzon, who saved SAS airlines from collapse in the 1980s, constantly reminded his employees that 'coffee stains on the lap trays tell our customers that we don't do our engine maintenance properly'. He understood that people take the standards we keep in one area as an indicator of the standards we maintain overall. Hence successful leaders are constantly alert to what is happening around them, recognising that whatever they walk past, tolerate or leave unchallenged they permission, whether this is litter in the corridor or behaviours in a meeting.'
'The second was curiosity. In 1998, David Marquet took over command of the USS Santa Fe, a nuclear-powered submarine, but it wasn't the one he'd trained for. His, and indeed the whole Navy's, leadership approach assumed that the captain was the most knowledgeable person onboard. Now, as possibly the least knowledgeable person on board, he realised he needed a new model, and so started asking questions. He quickly found that this enforced change, inspired thinking, innovation and creativity in everyone else. Within a year the Santa Fe became the most successful vessel in the entire fleet. As managers people often look to us for the answers; as leaders we give them the clarity of direction, permission and belief to think and act for themselves.
'The third was relationships. Red Auerbach was the most successful basketball coach of all times, a tough-talking, no nonsense New Yorker from the Bronx. During his career he was fined more and sent from the sidelines more than any other coach. After he'd retired an interviewer asked him the secret of success to which he replied 'I loved my players', meaning that he wanted them to feel valued, appreciated and recognised because he knew that the quality of the relationships within the team ultimately would dictate the results of the team. Loving them didn't necessarily need him to like them, he just wanted them to be the best they could be. To grow, our muscles need to be exercised; and the first exercises for our leadership muscles are awareness, curiosity and love for those around us, even if we don't like them!'
Andy Buffham, Assistant Vice-Principal at Peckover Primary School said: 'This was a totally inspiring session that provided practical tools to reflect on the importance of relationships, trust and noticing energies in order to develop high performing teams and amazing results. There was a great atmosphere and everyone engaged actively in meaningful reflection about 'why' we do things in order to move from managing to leading. It was a very enjoyable and purposeful evening.'
Claudia Hibberd from Brooke Weston Academy said: 'We were very pleased that Martin Carter facilitated the first session of the Leadership Academy programme for us. He has a wealth of experience in leadership across a range of contexts and he was very good at encouraging participants to reflect on their own leadership styles and competencies. It was a very thought provoking session and Martin's approach to leadership has already helped me with tricky conversations. You can get so caught up in everyday tasks that his theories will help me through many more.'
To visit Martin's blog click here.