BWA's geography department receives accolades
11/12/2018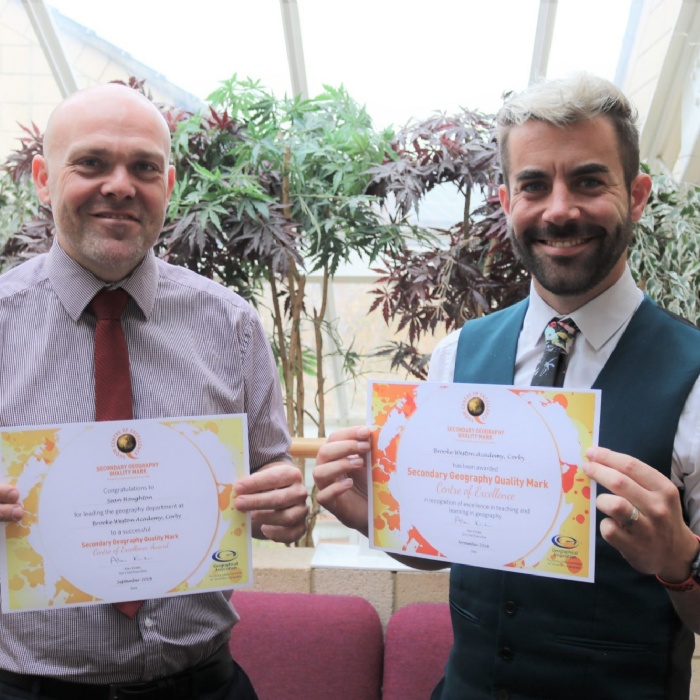 Congratulations to the Geography Department at Brooke Weston Academy, which has been awarded the Secondary Geography Quality Mark and accredited as a Centre of Excellence for its teaching.
It is one of only 12 secondary schools to be given both accolades this year and the department had to evidence outstanding teaching and the impact it has had on outcomes.
The Trust Director of Geography, Sean Houghton, and BWA's Head of Humanities and Geography, Kevin Glesinger, collaborated on the bid, which was submitted to the Geographical Association, a leading body working with geography teachers nationally.
Sean Houghton said: 'The Secondary Geography Quality Mark application was a 12 month process where we had to reflect on current practice and leadership and submit data in four key areas including student attainment, teaching, behaviour and relationships and leadership and management. To be accredited as a Centre of Excellence you have to choose a route and we decided to evidence the quality of fieldwork experiences, which we have expanded massively over the past five years.
'In addition to the existing Year 7 Hunstanton trip we started to conduct fieldtrips in Year 9 to Leicester to investigate aspects of human geography. Year 9 students are also required to study a small scale UK ecosystem so we use the pond on the school grounds. In Year 11 students return to the coast to look at the human and physical geography such as sand dune succession and coastal management.
'For our A Level trip to Liverpool, instead of going to field study centres which can be very expensive, we stay at a Youth Hostel and have invested in fieldwork equipment. Kevin delivers the coastal processes and management aspect of the fieldwork and I look at the urban geography in and around Liverpool city centre and students are required to conduct their own independent research.
'The Geographical Association is one of the main bodies for promoting and supporting geography teaching, so to get both accreditations is quite an achievement. All members of the department helped to collate all of the data and evidence on teaching and outcomes that we submitted. We conducted student surveys and put together evidence that showed what we have achieved in geography.'
Kevin Glesinger said: 'I am really pleased about the accreditation and it is testament to the hard work that we have put into geography over the past few years. The fieldwork that we now do with students is explicit throughout the course, from Year 7 through to A Level. One of the key things we do is make geography more engaging for students so they have a sense of purpose in their study. It helps their understanding of the development of the world, their place in it and the purpose of what they are doing.'