BWA awards first ever Sports Colours
13/11/2018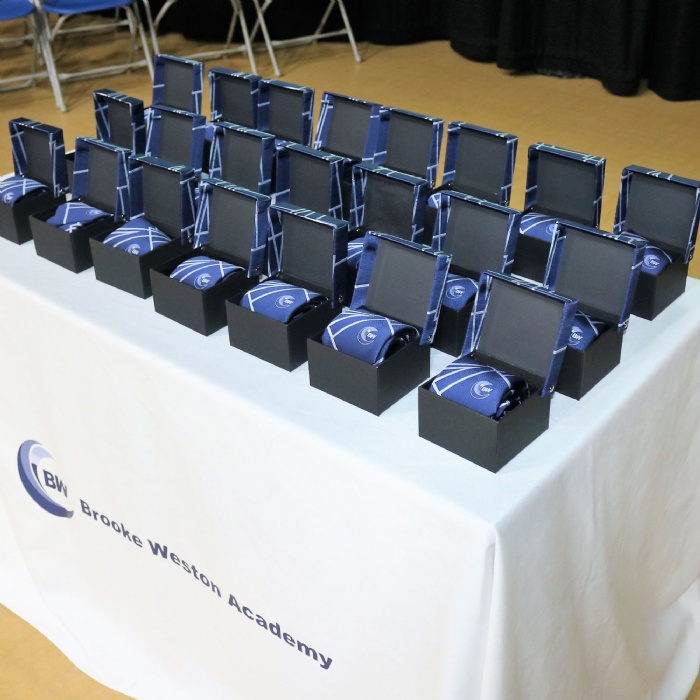 Congratulations to the 22 athletes from Brooke Weston Academy who have been presented with Sports Colours for their achievements in a range of competitions and disciplines.
It is the first time that the Academy has awarded Sports Colours to its students, who have excelled in sports and they were each presented with specially designed ties that they can wear in place of the standard issu
Principal Pete Kirkbride had initially announced the winners at this year's Prize Giving and he made the presentations in both assemblies. Some of the sports students were awarded for include swimming, trampolining, football, netball, rugby, gymnastics and boxing.
Mr Kirkbride said: 'The awarding of Sports Colours is common practice in top independent schools and they signify that the recipient has been hugely successful and dedicated to their chosen sport. We have some exceptional sportsmen and women among our student body who regularly devote hours to training and competitions, in addition to their school work. It is the mark of the sportsman that they continue when their training is long, hard and tough and these students display exemplary determination, resilience and sportsmanship. I am delighted to award these Sports Colours and know that our students will wear them with pride. They will also provide inspiration to their peers and we look forward to continuing to award our students who go above and beyond in their sporting endeavours.'
Congratulations to the following students who received their Sports Colours: Martina Aguilera, Kaira Ahmed, James Annable, Iona Bebb, Tania Bizabani, Beth Brown, Emily Brown, Alex Cochrane, India Farrar, Stanley Evans, Jorja Fox, Nimrat Garcha, Casey Morris, Hanna Mazur, Leah McAuley, Shaun Morton, Isabella Moxey, Ellie Mulligan, Ropa Nyaruwa, Charlotte Parsley, Lauren Talbot and Caoimhe Tapp.
To see a gallery of pictures from the presentations click here.