Top CEO talks to Leadership Academy delegates
27/11/2018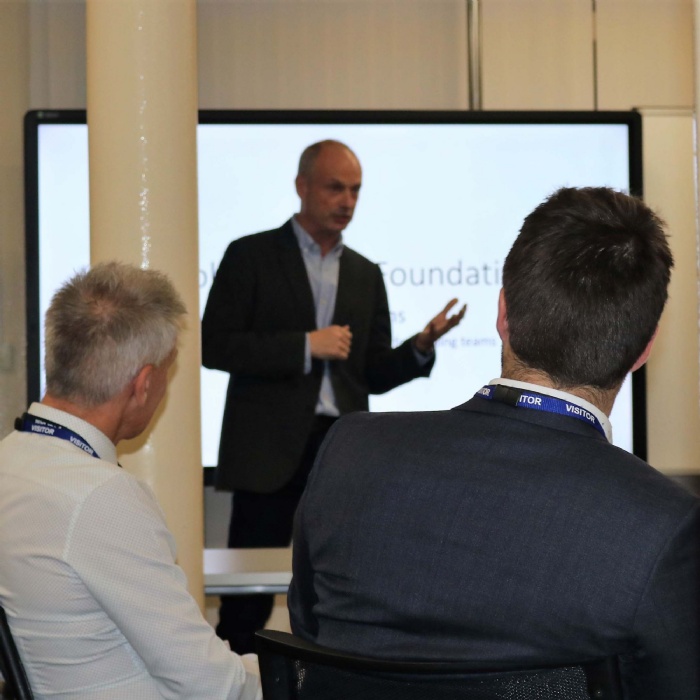 International businessman and CEO Mr Paul Murphy gave an inspirational talk on building teams when he delivered a session of our Leadership Academy programme, linking the insights gained in his successful business career to the world of education.
Our Trust Leadership Academy started this year to identify and equip our teachers with the skills and knowledge necessary to effectively take on leadership roles. Delegates have a packed itinerary when they will learn from a variety of speakers and experts in different fields.
Brooke Weston Trust CEO Dr Andrew Campbell told them: 'For this programme to become sustainable, not only do we need to make it really work for you, and that is why your feedback is so important, but we need to keep giving other people a sense of what this programme is about, for when they are thinking about their next movements in a couple of years. We have tried really hard on this programme to not limit it to teachers talking to teachers about teaching. This is about developing leadership and a range of skills around that.'
Mr Murphy has been CEO of Jordans Dorset Ryvita Company for the past ten years, oversees private label bakery Speedibake and heads up a sport nutrition business. He has worked for a range of international brands including Twinings, Bacardi and Reckitt Benckiser in a career spanning more than 30 years, in both marketing and management roles.
He said: 'A great deal of my experience has been international so I have worked and led teams in France and the United States. I want to talk through my experience of leading teams and what I have learned. There are lots of different situations, leadership styles and human depths to balance.
'There always comes a point in a career where you basically get promoted for doing something really well. The most difficult transition we have in business is between a 'Head of' role where you are leading a function but remaining in task, and then suddenly go from having three or four people reporting to you to having teams of 25, 30 or hundreds. That is really difficult but it is where we apply all our training. A lot of this information is basically obvious but really difficult to apply.
'I am talking about the practical applications of leading teams, including the fundamentals; how do you select teams, develop individuals and get the best out of them in terms of solving problems? It is also about how you set a longer term vision and strategy and thinking about some of the personal challenges that you face.
'Delegates will think about the leaders they have worked for, some of the challenges they have had and characteristics of both the really good teams they have been in and examples of the bad ones. I will get them to think through their practical experiences and get them to share. They can learn a great deal from each other as well as a little from me.'
During his two-hour workshop delegates split into groups to undertake tasks and discussions.
Afterwards Sophie Allert from Corby Business Academy said: 'What an insightful presentation! From general principles to practical tips, it was a thorough look into leading and developing teams with integrity and authenticity!'
Andy Buffham from Peckover Primary School said: 'It was absolutely fantastic. It was lovely to hear about leadership in a different context. Paul has obviously got a lot of experience and has worked internationally as well. He has seen a lot of different contexts within the business and he was interested to hear about how his leadership ideas fitted in with education.
'The difference in education is that it is harder for us to have that separation between our leadership role and our day to day job. It is more intermingled than in business, which has more defined structures. The main message is to be aware of yourself as a leader and know your skills. Paul said that you will always be a certain type of leader but you have got to be aware of how that fits into the overall team. '
To see more pictures from the event click here.