Trust Primaries train at Northampton Saints
28/11/2018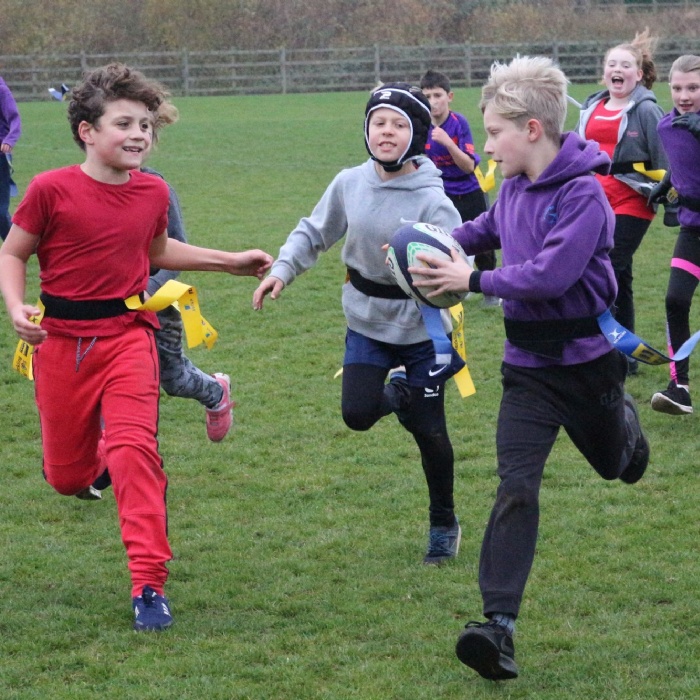 Year 5 and 6 students from our Primaries took part in a day of rugby at Northampton Saints, where they got a tour of the grounds and tuition from the club's coaches.
The groups, from all five primaries first had warm up games of tag rugby before going on a tour of Franklin's Gardens, where they saw the gym, changing rooms and sat in the stands, watching some of the players training. Then it was back to the pitches for an inter-school tournament before the final scores were totted up with the team from Compass Primary announced as victors.
Well done to the other teams, including Gretton, who were narrowly pipped at the post with Beanfield and Oakley Vale sharing joint third place.
Trust Director of Sport, Kirstie Smith organised the day and she took part in a 'Beat the Teacher' competition, going head to head with Liam Benner from Beanfield Primary to see who could kick the most goals.
She said: 'This was an amazing opportunity for our students to tour a top flight stadium and to see behind the scenes, sitting in the players' changing rooms where they get ready for match day. The students really played their hearts out in the tournaments and took on board the tuition that they had received in the morning session. Thanks to all the schools who released their students and teachers to take part in a great day of sport that, hopefully, they will never forget!'
To see more pictures from the day, click here.