Peckover students enjoy the Royal Visit
12/05/2018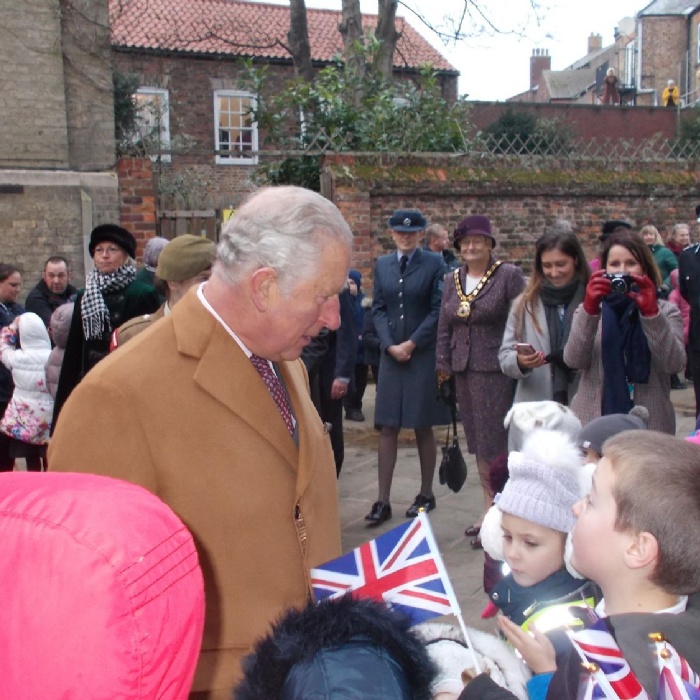 Our students got caught up in all the excitement of the recent Royal visit as many waved flags to greet the royal couple, while our Principal Mrs Norman, teacher Mrs Kendal and two students, were introduced to Prince Charles!
Three classes of children (from Early Years Foundation Stage, Year 5 and Year 6) went to St Peter's Church to stand with hundreds of others to greet the Royal couple. Our students waved flags and Daisy, from EYFS, presented a posy to the Duchess of Cornwall!
HRH Prince Charles looked around a variety of displays in the church and Mrs Norman, Mrs Kendal, Vesta and Matthew spoke to him about the school and Prince Charles said that our maths work on display looked difficult!
Teacher Andy Buffham was pictured with the Prince of Wales outside the church. He said: 'The children from Peckover lined up outside the church and greeted HRH Prince of Wales and the Duchess of Cornwall and they both shook hands and talked to the children and staff. They were very excited to see us there and asked lots of questions. The children went into church to watch Prince Charles meet lots of different representatives of Wisbech and then we sang The National Anthem outside the church as Prince Charles left.'
Afterwards Mrs Norman said: 'It was hugely exciting for us all to meet the Royal couple, and we were delighted to be able to talk to Prince Charles about Peckover and show him a little of what we do. Our students behaved impeccably and it is certainly a day that none of us will forget!'
To view a gallery of pictures from the day, click here.