TCA students meet HRH Prince Charles at Wisbech
12/05/2018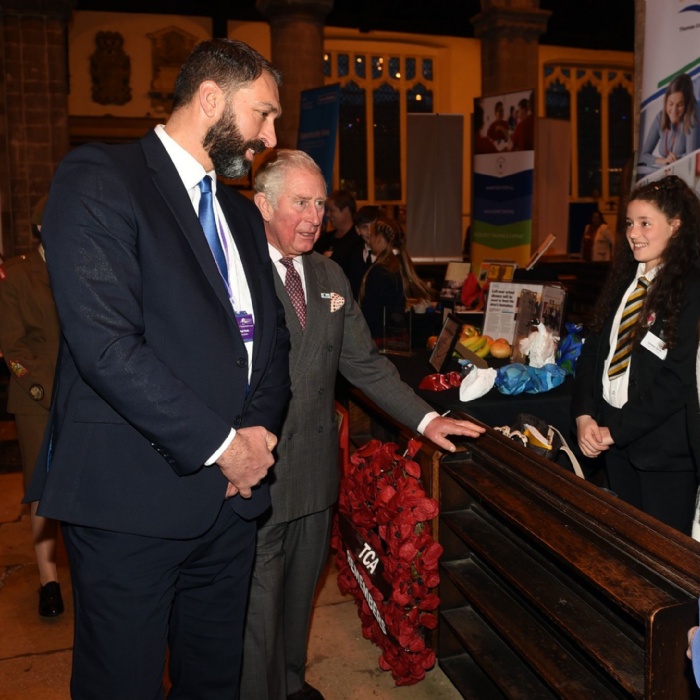 Two students from Thomas Clarkson Academy met HRH The Prince of Wales and spoke to him about some of the work going on at TCA during the recent royal visit to Wisbech.
Representatives from both Thomas Clarkson Academy and Peckover Primary School were invited to take part in an exhibition at St Peter and St Paul's Church where Prince Charles met around 20 of the town's local charities, organisations and volunteer groups.
TCA's exhibition showcased the Academy's partnership with the Ferry Project, which sees leftover food from the restaurant regularly donated to Wisbech's homeless shelter. Also on display was some environmental project work depicting the impact of plastic on the planet, plus some artwork by former student Maisie Foreman-Bates on a similar theme.
Anastasija Kurisko in Year 12 and Lauren Davis in Year 8 explained the artwork to Prince Charles, which he described as 'wonderful'. He also spoke to Associate Principal Richard Scott and Executive Principal Anne Hill and commended the Academy on its partnership with the Ferry Project, saying it was good to see the issue of food waste being addressed.
During the event, the Prince of Wales met local dignitaries and learned more about local projects such as Wisbech2020 and the Wisbech Garden Town proposal, which plans to provide additional sustainable housing and drive both social and environmental regeneration of the existing town.
Prince Charles was joined in Wisbech by the Duchess of Cornwall, Patron of The National Literacy Trust, who visited the Wisbech and Fenland Museum to learn more about how local organisations are supporting families and primary schools to improve children's literacy skills in Wisbech.
To see more photographs from the day, including those from Peckover Primary School, click here.