Harvard student Sam Blackman returns to KSA
01/10/2019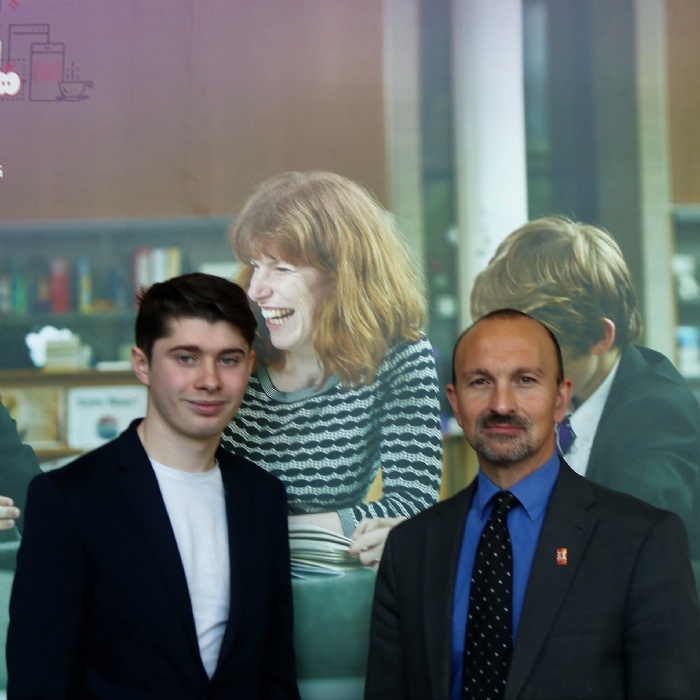 Sam Blackman, a former student of Kettering Science Academy, who won a place at Harvard, returned to KSA to talk about his experience studying at one of the most prestigious universities in the world.
He started by telling Year 12 and 13 students about the application process. He was first accepted on to a fact finding visit through the Sutton Trust USA programme and embarked on an arduous application process, which saw him submitting five assignments to Harvard just a week before he sat had three A Level exams. He was supported throughout by staff at Kettering Science Academy, notably the then Head of Sixth Form and Vice Principal Kirsty Farrar.
Only the top three per cent of students win places at Harvard and Sam is now taking 12 different modules over the next four years, as part of the Liberal Arts curriculum. He current timetable focuses on life sciences, rhetoric and calculus.
He told the Sixth Formers 'University is something completely new and scary, but it is also great fun. You are going to make a lot of friends across all subjects. Some of you might be wondering if it is right for you. It crossed my mind as well. University is a massive advantage, there are degrees in everything so to be able to say you have a degree is a huge advantage, but it is not the be-all and end-all. If you are worried about missing out on that grade, or going to university and hating it, it's OK, there are other options. You really need to pick something that is right and special for you.
'I was terrified of going to America, but I decided to go because their way of education is called Liberal Arts which means that I can afford to be indecisive for a little bit longer about my subjects, so that really suits me. Make friends with the international students. Talk to your teachers because it is going to make it so much easier to keep pushing through. Your teachers are there for you.'
There was a question and answer session where students questioned Sam about the education system and why he thought he got selected. He said: 'Harvard was "Go big or go home!" I didn't think I would get to America, so my philosophy was if I set the highest challenge for myself and worked hard, then maybe I'd get there … America is a great place to be.
'The Sutton Trust run an amazing programme each year where they take students to the US for a week and you speak to hundreds of representatives of different universities. It is a really great opportunity.'
He told the students to make sure their applications stood out, by applying for a course they are passionate about and giving a personal statement that is authentic: 'For Harvard I wrote an essay about ice skating. I have loved ice skating since I was a kid but never afforded it, so I went out and worked until I could afford to it. I didn't do it for a university application, I did it because I wanted to and so I could speak passionately about that. The top universities look for students that are good at what they do. My Italian friend is in the top five in maths in the world, but they have a holistic ambitions where they look at you, and look at the class they are creating, and want a balance. I'd like to think that is why they took me, because I came across as unique – that is really important.'