Ambition for All launches at Beanfield Primary School
01/11/2019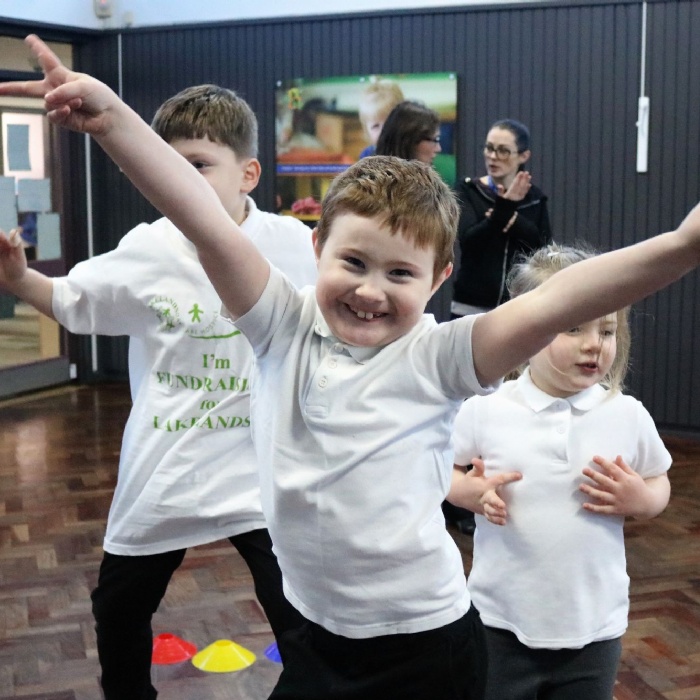 Beanfield Primary Academy has launched an energetic Ambition for All month, with plans for sponsored events, afternoon teas and a variety show, which will all raise money for local charities.
Proceedings got off with a bang today(Friday 11 January) with a whole school 'Jumpathon', where all students and staff spent ten minutes jumping to funky music. It was a sponsored event so all of the proceeds will be donated to Lakelands Hospice. It was a chance for students to let off steam and raise money for a good cause at the same time.
Following on from last year's success, Beanfield Primary School is also planning afternoon teas on 21 and 25 January. A range of cakes and goodies will be provided along with tea and coffee for adults and juice for children. Tickets cost £4.50 for adults and £3.50 for children, and they will be available to purchase from reception from Monday 14 January. There should also be some entertainment and profits from these events will be donated to the NANNA animal charity, after students held a ballot to decide which local charity to support.
More than 50 children will be taking part in a variety show on Thursday 31 January from 6pm. It will be an opportunity to showcase their talents, including singing, dancing, music, football skills and comedy. There are 28 acts signed up in total and it will be a lively evening of entertainment. Each student taking part will be allocated two tickets, and there will also be refreshments and a charity raffle.
Finally, each year group will be learning new skills throughout the Ambition for All month and they will meet together on 1 February to showcase the things they have learned. Reception have been involved in music making and Year 6 students will learn African drumming.
Associate Principal Sam Eathorne said: 'We had a really good Ambition for All month last year, so this year we wanted to expand what we were doing. The Variety Show was really popular and the response has been even bigger this time around. We will have the Mayor of Corby coming along, as well as Principals from other Trust schools so it will be a memorable event. Local companies have already donated prizes for the raffle and the students are really getting excited about all the fun that we are going to have this month.'
To see a gallery of pictures from the Jumpathon, click here.