CTS student records first CD
15/01/2019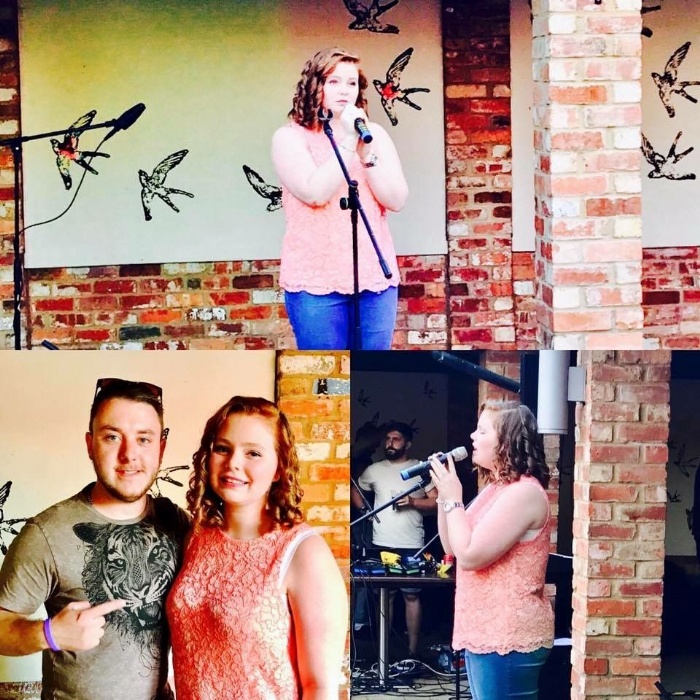 Talented singer Kara Hamer from Corby Technical School has recorded her first-ever CD which consists of covers, thanks to a local charity that helps young people develop their talents.
Kara, who won 'Northampton's Rising Star' competition, received funding from The Travers Foundation to pay for her recording sessions at Beck's Studios in Wellingborough. She has recorded about 20 songs, which will be whittled down to ten for the finished product, which should be available soon.

She said: 'The Travers Foundation is a charity that provides funding and financial support to young people to help them improve their skills in sport, music and the arts. They gave me money to have a three voice lessons with a West End coach called Mary King to learn about breathing techniques as it is important if you want to sing professionally that you don't strain your voice.'

Kara has spent hours recording her songs, sometimes repeating the same song or phrase many times until it was perfect: 'I am planning to record 20 songs and we will choose ten which fit together well. We record each song three times and use the best bits of each. If I don't like any phrases or syllables then I do them again until I get it just right. It is very time-consuming and is certainly not as glamorous as people think!'

Kara only needs to listen to a song two or three times to learn it. She performs regularly and has sung in front of a packed audience at Corby Cube and also at civic receptions for past and present Mayors. She also sings at private events including funerals. Last year she wrote and recorded 'You Were the One' which featured on social media and was aired on Corby Radio.

'As it was my first song it took me years. I sung little phrases and played a few notes at a time on the piano. Everybody writes songs differently, I don't think there is a formula for it. I have to be in the right creative mood to write. A good melody may pop into my head so I get my phone out and record it. I have got hundreds of recordings on my phone in the hope that that they could potentially fit into a song somewhere someday.

'Singing is something that I love doing and if I am upset or have a bad day, I can get the emotion out. People say that when I sing they can feel the emotion because I sort of put myself into a bubble. Once I am on stage I am totally focused. Afterwards I don't remember it much because I am so into the song, it's all the adrenaline.

'When the CD sells I will use some of the money to buy equipment or new backing tracks. The Travers Foundation want to help people progress and flourish in their chosen industry so obviously I will give some of the funds back to them too, to help others who have the same dreams and ambitions.'
To see Kara perform in a podcast click here