Pythons and planets at Peckover!
02/06/2019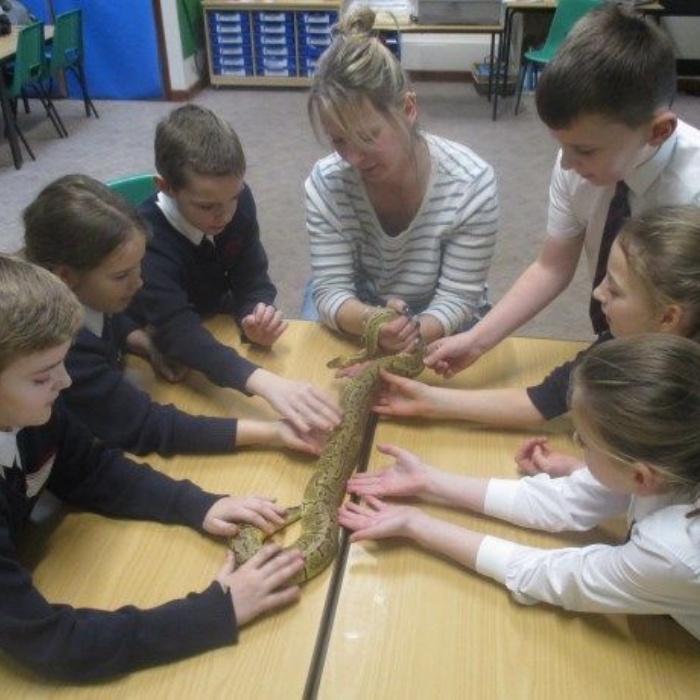 There's been lots happening at Peckover Primary School this term. Here's a few details of just some of the exciting topics taking place for some of the different year groups.
Year 4 students had the amazing opportunity to see Hunni and Strike, two royal pythons. The students have been learning about the rainforest and which animals live in the different layers of the forest.
Teacher Holly Gladwin said: 'We have looked at different groups of animals; reptiles, amphibians, mammals and insects. The pythons were with us for a whole afternoon and, after having the opportunity to hear about them and ask questions of their handler, the children had the chance to stroke and hold Strike.'
Year 2 students at Peckover Primary learned about space during a live video conference with Commander Rob from the National Space Centre. He answered lots of questions that the students had prepared before the event, and there was also time for impromptu questions. Teacher Esther Fletcher said: 'They learned lots of interesting facts about the planets, the sun, the moon and life on the ISS. The children enjoyed speaking to Commander Rob and are looking forward to their visit there very soon.'
Year 5 students learned about blood composition and bacteria during a visit from Dr Ambrose, who is currently completing research at Manchester University. She taught the students about how red and white blood cells, platelets and plasma work in the blood and also about good and bad bacteria. Then the students had a visit from surgeon Dr Ellie Atkins, who told the children about different parts of the body and the work she does at the Queen Elizabeth hospital in King's Lynn.
Year 6 students held their RU2cool4school event, with several parents, and grandparents, joining in with the children's lessons for the morning. Vice Principal Kate Kendal said: 'All the parents were very well-behaved and very impressed with how hard the children work. In the afternoon, we completed lots of E-safety scenarios, where we learnt how to keep safe online. At 3:15pm, the parents were exhausted…and they'd only done one day! We were kind though and didn't give them any homework! Thanks to everyone who came along – we hope you had fun!
To see a gallery of photographs from these activities click here.