Beanfield's cheque presentation to Lakelands
15/02/2019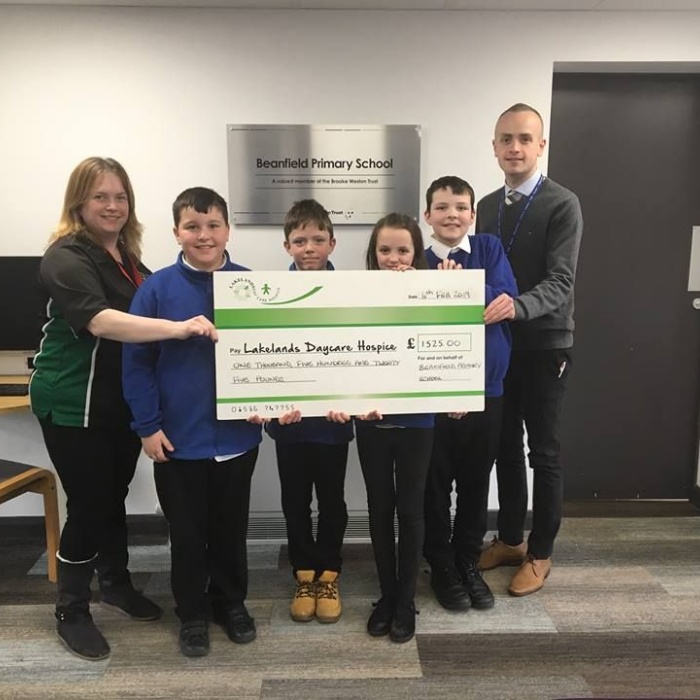 Members of our Student Council proudly presented a cheque for £1,525 to Marina Rae, a community fundraiser from Lakelands Hospice.
The money had been raised as part of our Ambition for All month, with all proceeds from the very popular Jumpathon, and some from the Variety Show, going to this very worthy local charity.
As well as being presented with the cheque, Marina also did KS1 and KS2 assemblies, telling our children more about Lakelands and the valuable work it does. Some of them already knew about it as they have had family members who have used its services. Money from the Ambition for All events will also be donated to NANNA, an animal charity based in Irthlingborough, that the children all voted to support.
Sue Hall, Trusts and Grants officer from Lakelands said: 'A huge thank you to all the staff and students at Beanfield Primary School for your amazing donation of £1525.
'The donation will be used for our Hospice at Home service which sends qualified nurses to the homes of patients at end-of-life, during out of hours, who would prefer to be at home surrounded by their family and loved ones.
Since the start of this service in 2010 we have supported 573 end of life patients, their families and carers to date. Once again, thank you to all involved in the Jumpathon!'