Out of this world ideas in Believe Big finals
04/05/2019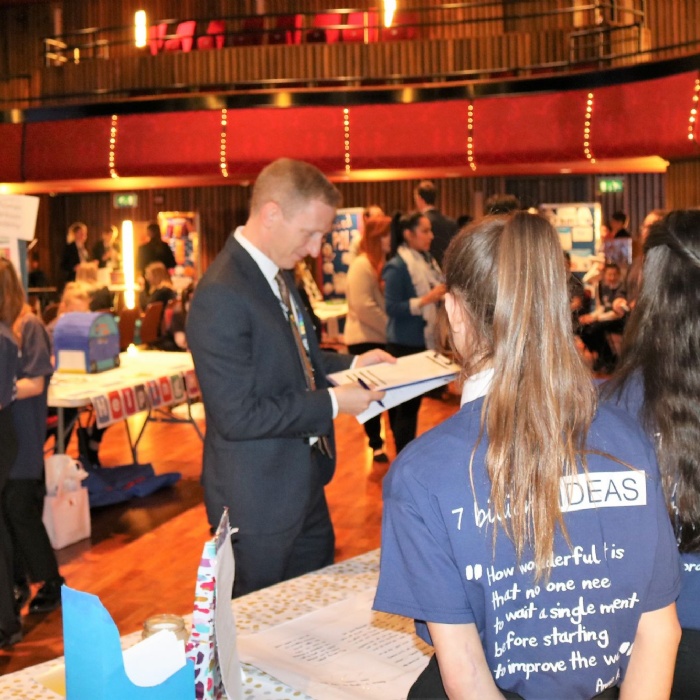 Well done to the team from Kettering Science Academy for scooping first prize at this year's Secondary Believe Big competition for their idea of growing vegetables in space.
Future team, comprising Sean Dimmock, Harry Hutchinson-Owen, Maciej Smolinski and Kamil Zamora were judged to have the most innovative or life changing idea from among those presented by our Trust secondary school finalists.
There was a strong emphasis on ecology and philanthropy this year with teams coming up with ideas to remove plastics from the ocean, assess bugs on trees and use solar power in different instruments and devices. Others also decided to target the homeless with a range of interventions.
Each of the teams had worked for weeks on their presentations, models and stalls and the final at the Core in Corby was their chance to explain their ideas or products to a judges from Brooke Weston Trust's Central Team.
Trust Finance Director Debbie Tysoe, Senior Operations Manager Tim Laws and Chris Stewart, Senior Finance and HR manager toured the stands and asked detailed questions before announcing the finalists.
David Harkin, of 7 Billion Ideas who ran the competition said; 'It has been fantastic when you get to work with the schools from year to year and the standard has just risen, not only from the prototypes, but the stalls, the posters and also the uniqueness of the ideas. We really encouraged the students and teachers this year to really get carried away with their imaginations and that has shown here today, that people have really genuinely 'Believed Big' when it comes to their ideas. The models have been exceptional. The students have really embraced the challenge and made some fantastic prototypes.'
John Henrys, the Trust's Head of Analytics, System Performance and Innovation, said: 'We have learned a lot of lessons so this year's ideas were bigger, the quality of the stalls was fantastic and clearly a lot of time had been spent on the presentations and the way that the students were able to explain their ideas. There is a real awareness in the students of what some of the social problems are that need addressing.'
Well done to the teams who took part in this year's competition. We will post a round-up of all the teams and their ideas very shortly.
To see a gallery of pictures from the event click here.
The results were as follows:
1st: Future team - KSA - Pacto Vegetabilis
2nd: Fade Creations – Brooke Weston Academy - Token Trader
3rd: SEN+ - Corby Technical School
Best Poster: Tree Totaliser – Kettering Science Academy
Best Model: Helping Hands – Thomas Clarkson Academy
Best Stall: ITASK – Corby Business Academy