Amazing ideas at Believe Big secondary final
04/10/2019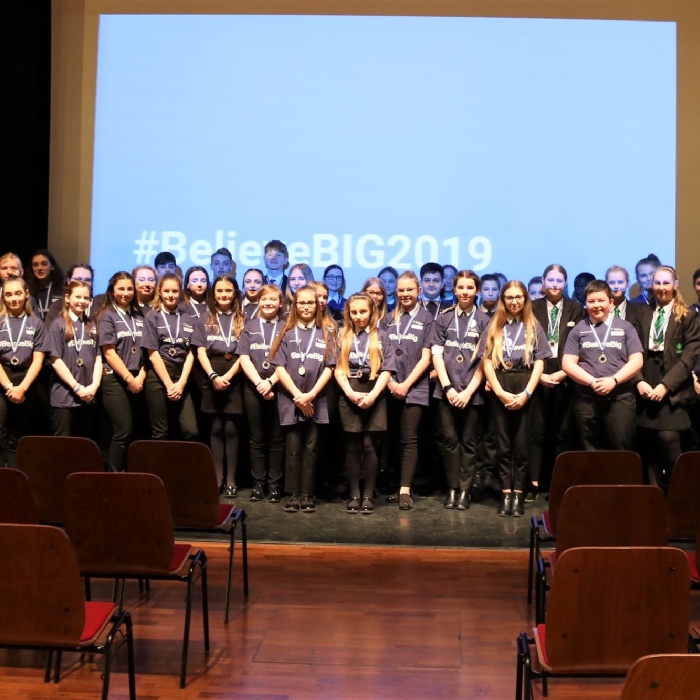 Here's a round up of all the teams who took part in the Believe Big secondary final and the innovative ideas that have developed.
Brooke Weston Academy teams:
Let's Squash Anxiety:
Team members: Evie Fotheringham, Aimee Wooton and Ellen Barron-Edgley
Evie said: 'Our product is a squishy fidget toy that can be used children with anxiety or mental health issues and there is a range of them including pencil toppers so they can be used in lessons.'
Token Trade:
Team members: Evie Welsh, Amelia Whitwell, Felicity Parker-Rivers and Dorothy Fairhurst.
Evie said: 'It is a token scheme so you sign up and get tokens mailed to you. If you see a homeless person and they need help you give them a token. There will be Token Trade shops all around the UK where the homeless person can trade in tokens for food, water, blankets and clothes. They could also be used to get job interviews, therapists and medical advice and if they need to they can have a shower or sleep in the Token Trade shop.'
Beloma Bins:
Team members: Aly Dinu, Hannah Parker and Elspeth Bedwell.
Aly said: 'We came up with the name Beloma Bins as it is a combination of 'Believe, Opportunity and Machinery'. It is an outdoor bin and we are going to negotiate with as many companies as possible to put a barcode onto their product wrapping. There is a scanner which scans the barcode and opens the right compartment in the bin and locks the others. When you scan items dog treats come out as a reward. We were watching videos on how to make thing more fun and we thought it would be a really good idea to do something that makes you feel good about yourself and want to put something in the bin so it is about sustainability.'
Corby Business Academy teams:
I-Task
Team members: Angela Bujac, Jessica and Paige Scott.
Angela said: 'We developed an app, based on the American app Uber, but instead of transportation it is for jobs. There are two roles, someone who would set a task and someone who would complete it. Our main focus is giving people financial opportunities. It's a platform that offers jobs but you get to choose your job and get paid through the app.'
Jessica said: 'Our app would be an opportunity to help unemployment throughout the world.'
Period Palz
Team members: Bethan Barnwell, Cole Jordan and Weronika Kaminska
Bethan l said: 'It is a discreet portable heat pad which you can stick on your stomach and wear under your clothing. It retails from between £6 to £15.'
The Barger:
Team Convenience:
Fraser Martin said: 'Our product is called The Barger. It is a battery charger that uses batteries and solar panels to recharge your device. We came up with this idea because it is really inconvenient to charge up your charger before you can use it on your device so we thought if we could shorten that time to make it as convenient as possible that would help.'
Corby Technical School
SEN+
Team members: Sophie Leivers, Nela Mazurek, Jasmine Sellars and Erin Callaghan.
Sophie said: 'It is a watch or bracelet that you wear when you are asleep and it has a sensor to make sure that everything is OK. It is mainly for diabetics and will stop children from having to leave lessons to keep checking their blood sugar. If you are asleep it will raise an alarm and if you can't wake up it alerts five people in your contacts and calls an ambulance. We have friends who are diabetic and we have seen them having struggles and walking out of lessons so we wanted to do something to help.'
EPA (Elderly Person Assistant)
Team members: Ianis Calota, Alfie Hensman and Oscar Suchorowski
Ianis said: 'It is a personal robot assistant for the elderly and it follows them around the house. It reminds them of information, medical timetable and birthdays.
Alfie said: 'We know older people may not get the best healthcare so we wanted to make things easier by creating a model.'
RFS – Rubbish Fishing Submarine
Team members: Layla Mathew, Katie Gibbons, Abdou Jagne and Neave Green
Layla said: 'Our idea was to make a submarine to collect all the rubbish and pollution from the ocean as recently a dead whale was found that had 40kg of plastic in its stomach.'
Pacto Vegetabilis
Team members: Sean Dimmock, Harry Hutchinson-Owen, Maciej Smolinski and Kamil Zamora
Sean said: 'Our concept is Pacto Vegetabilis, which is Latin for compact vegetable because we have been looking at our civilisation as a whole and believe that to advance we need to become a space-faring civilisation and set up a base on the moon or Mars. The problem is we will run out of food and so we think we should be able to grow our own food in space. It has undergone a lot of research, we have made a few models and we have shown the development of the design over time.'
Frutimals
Team members: Matilda Norbury, Lacie Mitchell and Amelia Thomas.
Matilda said: 'We have blended fruit and have added gelatine and put it into farmyard animal moulds. They would be in the freezer section of a supermarket so they would be a nice, cold treat to have in the summer. A lot of younger children have illnesses to do with not eating healthily and there is a high rate of obesity so by promoting this it would lower obesity and promote healthy eating.'
Tree Totaliser
Members: Jessica May, Ashleigh Brooke-Bradbury and Izzy Cooper.
Jessica said: 'Our product aims to help the conservation of wildlife so it uses eco-location to detect the amount of animals in and on the tree so we can carefully decide which trees to cut down as it will harm less wildlife. There is also another sensor that detects chemical imbalances in the tree so we can get rid of the diseased tree and potentially save some of the animals' lives. I was in a country park walking my dog and I did wonder how many animals are in these trees. Then when they get cut down they are losing their habitat so we developed the idea. There will be sensors in a couple of the branches but not in the trunk as that is the main water source so we don't want to ruin that.'
Thomas Clarkson Academy:
Books for Everyone
Team members: Katya Haggett, Lacey Field and Oliwia Zyromska
Katya said: 'We decided to help people with a disability. It features braille, scratch and sniff, two speakers, one that reads like an audio book and one that does sound effects from the scene like a battle. We were thinking of how to help people around the world. Many people have disabilities and find it difficult to read so we were thinking how to make it more enjoyable and add lots of features.'
Helping Hands
Team members: Olivia Cook and Betsy Bidwell
Olivia said: 'Our idea is a robot that goes around to help the homeless. People can register their biometrics and fingerprint and it is run by GPS and it goes round to the homeless and takes them hot meals, drinks and snacks.'
Betsy added: 'There are so many people who are in need of food and water who are homeless, so we invented Helping Hands to try and help with the issue.'
To see pictures from the event click here.