CBA band presents cheques to two local charities
23/04/2019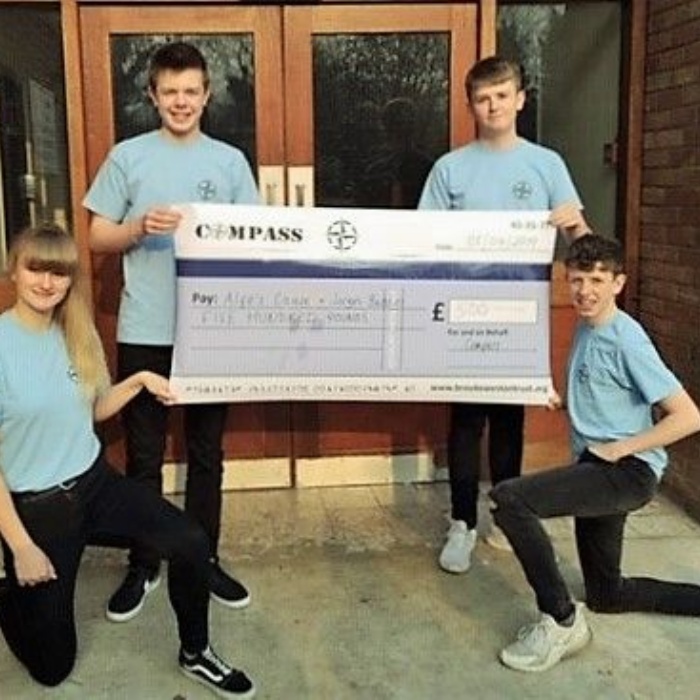 Compass a band of four GCSE music students from Corby Business Academy, organised an event to showcase the talented children of Corby and raise awareness and money for two local children's charities, Alfe's Cause and Jorgie's Buddies.
It was a brilliant event filled with Scottish, Irish and modern dancing, magic, the music of the bagpipes and a brass band and of course the talented Compass singing and playing a range of pop songs. The evening was compered by Cassidy Little, TV star and People's Strictly Come Dancing winner.
A massive £500 was raised by the teenagers. 'It was more than we could ever imagined as we had said if we could donate £100 for each charity we would be happy'
Compass would like to thank the community of Corby and surrounding areas for coming together that night and raising this amount of money to give to these two amazing charities. 'We, like Alfe's Cause and Jorgie's Buddies, are so thankful for everyone who came along, bought raffle tickets or donated prizes.'
The band presented a cheque to Alfe and Sophie-Mae Game on behalf of Alfe's Cause who said: 'Thank you so much for the amazing donation of £250 to Alfe's Cause. We really appreciate the time Compass put into organising the event and how they wanted to support other local children. This money will be used towards our next activity meeting when families are looking forward to a get-together at Wicksteed Park in July.'
Nicola Stanton from Jorgie's Buddies said: 'It was lovely to see young children working together for good causes. It means so much to us as it enables us to continue to provide several more comfort bears for poorly children. The feedback we get is amazing. The families are all touched and grateful as every parent knows their child is brave but to have someone else recognise it means so much more. Thank you to you all, it means so much and we have donated 370 bears to date and have just received a further six Be Brave bears which will be given to poorly children.'
To see photos from the event, the cheque presentations and the Be Brave Bears, click here.