Beanfield shows healthy support for Lakelands Hospice
06/03/2019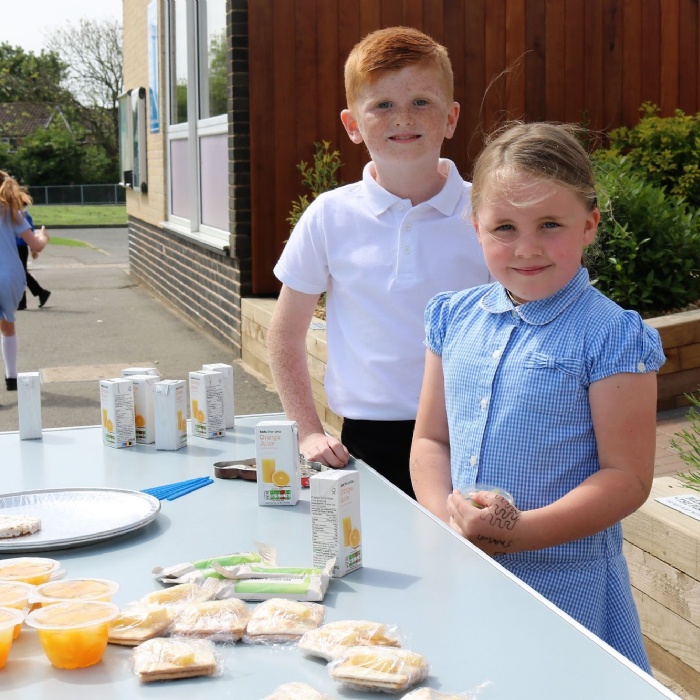 Beanfield Primary School has raised more than £250 by running a health snack bar, as part of an ongoing initiative to raise money for Lakelands Hospice. It was just one of a series of events the school ran for National Walk to School Week and promoted healthy snacking as well as fundraising for Lakelands' 'Bright Sparks' appeal.
Items were donated by Asda and Morrisons and the goodies, including cereal bars, fruit pots and cup drinks sold for 50p each at break times in stalls manned by school council members. The kitchen at Beanfield also made healthy fruit kebabs to sell.
Leanne Lee, community champion from Asda, said: 'It's great to come along and see how you are putting our donations to good use and seeing the children enjoying it. We donated fruit cups, cereal bars and fruity water cup drinks.'
Lakeland's 'Bright Sparks' appeal gave four local schools £25 as a starter amount and challenged them to increase it through a range of activities. Beanfield previously held an Easter Egg raffle and the snack bar was the second fundraiser, making £266 in total, which takes the school's current total to £475.60!
Marina Rae, the community fundraiser for Lakelands said: 'This is the first year we have done the initiative and we have four schools taking part. I like Beanfield's concept with the healthy eating as they have managed to get a couple of supermarkets on board so there is minimal outlay. I gave students a fundraising pack, including an event planner with costings so, as well as teamwork, they also have to work out profitability, so it helps with their maths as well. We are doing this on a league table of the amount raised per child because each school has different numbers on roll. Depending on what they raise they will get a bronze, silver or gold certificate and the 'Vic Hardy Bright Sparks Champions Cup' will be presented in July to the school that has raised the most amount per student.'
To see a gallery of photographs from the event click here.