BWA's food technician retires
20/06/2019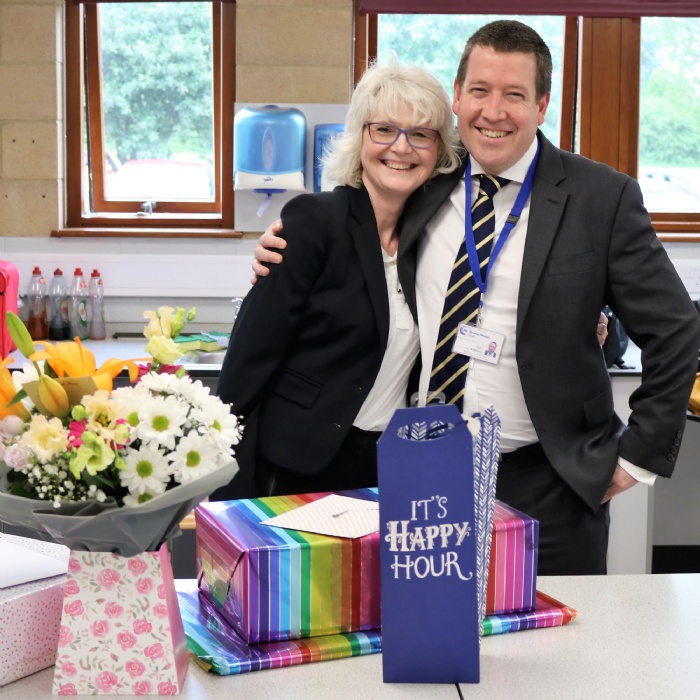 Staff at Brooke Weston Academy said a fond farewell to food technician Denise Dryburgh, who has retired after four and a half years.
Denise, who has worked closely with colleagues in the DT department, especially food teacher Natasha Chiremba, said: 'I have been involved in so many things but the recent meal we did with the Tollemache Arms has to be the highlight. I have loved working with all the students. Seeing them achieve way more than they ever thought they could has been amazing. Probably I have achieved way more than I thought I ever could as well. I have learned equally as much as I have helped out. It has been really fun, I have loved every moment of being here.'
Denise had a cake-making and decorating business and owned a restaurant for several years. She is now planning to live on a narrowboat, travel the country and continue her hobbies of folk singing and theatre, as well as having more time for her family: 'It's not the end of something, it's the beginning of something new. I have got some very dear friends here and I will keep up with them as much as I can. This school is an awesome school and I can honestly say there has not been a day when I haven't wanted to come in. Working with Natasha is a real privilege, she is an amazing teacher and it has been a joy. Thanks to my colleagues for all the wonderful presents and kind wishes that I have received. It has been overwhelming!'
Natasha said: 'Denise always goes over and above, nothing is too much trouble and she is wonderful with the students, they all love her. We bounced ideas off each other a lot and she was involved in everything. She will be a hard act to follow!'
Principal Pete Kirkbride told Denise: 'I know how hard you worked and how well you worked together. Thank you so much. I wish you the very best of luck with your next adventure.'
To see more pictures click here.