Trust Sports Awards winners
07/02/2019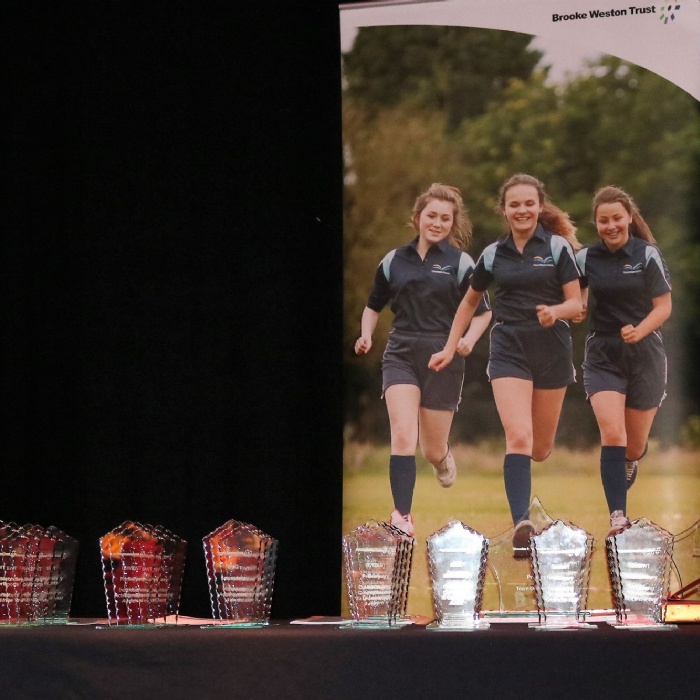 Well done to the nominees and winners at our Annual Sports Awards.
Categories and winners are as follows:
Sports Performer of the Year:
'Awarded to those who had made the most significant contribution to PE and school sport in their school community:'
Jan Fleszer (Beanfield): 'A talented diver who attends Corby Steel Diving Club, competing to a national standard.'
Regan Hartnett- White (Compass): 'An exceptional athlete who has represented the school at netball, football, cricket and athletics.'
Dylan Guzek (Gretton); 'An all-round sportsman who plays football for Kettering Town Football Club.'
Joshua Mend (Oakley Vale): 'A very gifted footballer who has recently signed for Leicester City youth team.'
Evie Suckling (Peckover): 'Extremely committed to gymnastics, she trains often and performs in a number of demanding shows while still working hard at school.'
Stanley Evans (BWA): 'Is in the GB development squad and reigning champion in the men's solo and novice couples for ice-dancing.'
Alexandra Manojlovic (CBA): 'A promising tennis player who is currently training at Andy Murray's training camp.'
Niall Shakleton: (CBA): 'A member of Leicester City Academy.'
Lexi Wilkinson (CTS): 'A fantastic long distance athlete which has resulted in her competing for the region.'
Clark Alderman: (KSA): 'Recently signed for Northampton Saints' development squad and represents KSA in a variety of sports.'
Danny Grieve (TCA): 'An extremely gifted rugby player who has signed with Northampton Saints.'
Individual Achievement Award:
Awarded to an individual achiever who has overcome challenge or adversity to make a significant contribution to PE and sport in their school community.
Rhys Laing (Beanfield): 'Rhys has had surgery this year and has fought back to play a key part in the school's Year 3 and 4 football team, showing an excellent attitude and resilience in PE.'
Paige Brennan (Compass): 'Paige has grown in confidence this year and her sporting ability has flourished, with her now regularly attending netball, dance and cricket clubs.'
Rory Sammon (Gretton): 'Rory's enthusiasm and positivity inspires everyone at Gretton to take part in sport. Rory takes part in absolutely everything, always wearing a big smile.'
Jordan Oliphant (Oakley Vale): 'Jordan has ADHD but is now unrecognisable in school through his journey in attending the Change for Life club.'
Tommy Houghton (Peckover): 'Tommy has excelled this year at tag rugby at Peckover. I teach him personally and I am so proud of him to win this award.'
Ella Bissel (BWA): 'Ella is often limited when taking part in some sports but wherever possible she does not let this hold her back.'
Ben Lattimore (CBA): 'Ben has recently won gold medals in the polybat and shows excellent determination and resilience in PE at all times.'
Louis Mullhall (CTS): 'Louis has a love of football which, since joining CTS, has developed into a love of sport. He has the highest attendance at extra-curricular clubs in the school.'
Meah Cunningham (KSA): 'This year she has become one of the hardest working students in PE, has shown an excellent attitude and put in effort in all areas. She has now been moved to top set where she is one of the top performers in her group.'
Oliwia Bolka (TCA): 'Oliwia has excelled in PE both practically and academically this year. She has also become an integral member of the Wisbech Hockey Club, an initiative that was set up in the PE department at TCA.'
Outstanding Contribution to Leadership:
Nominations were sought from the schools whose young leaders make the most significant contribution to PE and sports in their school and community.
Sports Crew: (Beanfield): 'In Sports Crew Beanfield has helped provide fitness and sporting opportunities for their peers throughout the year, helping everyone keep active and fit.'
Girls Active Leaders (Compass): 'Iona, Hannah and Martina regularly go above and beyond to ensure girls attend the Girls Active club and they have also become excellent leaders and role models for the school.'
Year 6 Sports Crew (Gretton): 'The crew oversee break and lunchtimes to ensure that students at Gretton get excellent sporting provision.'
Paige Lovell (Oakley Vale): 'Paige has become an amazing member of the Change For Life Club, supporting younger members and has actually delivered a memorable gymnastics session.'
Camilla Gwexela (Peckover): 'Camilla has led lunchtime rugby club with great enthusiasm, demonstrating excellent leadership qualities.'
Zane Mcloud (BWA): 'Zane is another talented rugby player that has really taken on all opportunities this year, leading by example and acting as a role model for his peers.'
Lauren McMullen (CBA): 'Lauren has dedicated much time to developing the skills of the Y7 netball team, alongside being a Sports Ambassador for CBA she is also a keen sportswoman, competing at county level for javelin.'
Erin McClymount (CTS): 'Erin has exceeded at any leadership event that she has attended this year. She builds relationships quickly and inspires students to be passionate about sport.'
Chloe Parker (KSA): 'Chloe has shown that she excels in most aspects of leadership – planning and delivering. She has planned detailed lesson plans that would be a welcome addition to any PE teacher's file. She has led basketball tournaments with excellent organisation and structure.'
Kacper Bembenek-Widuch (TCA): 'Kacper has shown true leadership quality this year, acting as a role model for younger students and encouraging them to take part in sport and PE.'
Sporting Volunteer of the Year:
Carlton Tinarwo (Beanfield): 'Carlton is an important part of the school sports crew and has been at the forefront of providing opportunities for others in the school to get active.'
Callum Darbon (Compass): 'Callum is sports captain and often helps coach younger people when at a club. He is becoming a key team player in many sports and will also support his team-mates, no matter what the outcome.'
Finlay Kavanagh (Gretton): 'Finlay volunteers to coach younger children in his football club once a week and he wanted to follow in his father's footsteps of becoming a football coach.'
Luke Oakley (BWA): 'As a Y13 student Luke has to work hard to manage his time but this does not stop him officiating football across the Academy.'
Chey Herbert (CBA): 'Chey volunteers as a referee for the school and local community.'
Katie Swan (CTS): 'Even though Katie has battled with injury she does support the development of other students within lessons and at her trampolining club.'
Beth Allan (KSA): 'Beth coaches local football in the area and also lots of girls' football at KSA.'
Joshua Watson (TCA): 'Joshua has become an integral member of Wisbech Hockey Club through a successful initiative at TCA. Joshua is regularly involved in coaching the younger players and is always helping out as much as he can.'
BWT Active Primary School of the Year: Winner- Peckover Primary School
Kirstie Smith said: 'This year within the Trust we have focused on boosting physical activity within our schools with the introduction of a daily physical activity task such as the Daily Mile and Go Noodle. The Daily Mile makes children fitter, healthier, happier and has a positive impact on their behaviour and concentration levels. It is simple but effective, enabling every child, including those with special needs, to be active every day. Go Noodle is a video tool which encourages pupils to move with purpose to a variety of videos across the curriculum.
'In terms of deciding who wins this award I looked at the data from the schools, how many miles and how many minutes they had done. Peckover Primary School clocked up 3,227 Go Noodle minutes beating all the other schools in the Trust. I want to say to all the other primary schools that you are all winners. I am so proud when I come in on my Fridays and see you doing the Daily Mile, most schools do different things, for example Gretton does a daily fitness activity. It is so good to see that these children are learning good habits. Well done to Peckover but well done to everyone.
Primary Team of the Year: Winner - Gretton Year 5 and 6 football team
Kirstie Smith said: 'The team has really grown this year particularly when they won the Small Schools Tournament. They came first out of 64 schools in Northamptonshire. Well done to all the other teams as well as there have been some fantastic results this year.'
Well done to the other contenders:
Beanfield Y5 and 6 football team
Compass dance team
Oakley Vale Curling team
Peckover Football team
Secondary Team of the Year: Winner - BWA Year 10 Handball team
'The Year 9 and 10 boys had never competed in handball before the School Games competition, this did not stop them winning three group games and drawing one. An extremely tense and entertaining final ended with them 3-3, then after normal time finishing 5-5 with the extra time. BWA managed to come out on top and win 2-1 on penalties to go through to the regional finals, which was a first in BWA history for handball.'
Well done to the other contenders:
CBA Y9 Netball team
CTS Y8 Basketball team
KSA Year 9 Athletics
TCA Year 10 Girls Football team
BWT Primary Rugby 2019 – Winner - Compass Primary Academy
To see a gallery of pictures from the event, click here.