Students attend STEMfest at RS Components
07/09/2019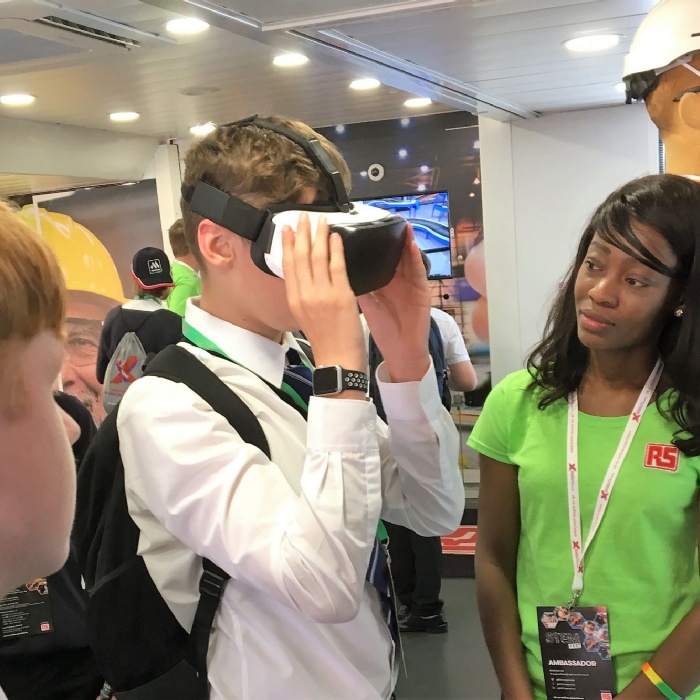 Year 7, 9 and 10 students from Brooke Weston Academy attended an exciting day of interactive activities and workshops at RS Components.
STEMfest, is the first event of its kind to be organised by RS to inspire young people to understand the incredible opportunities within Science, Technology, Engineering and Mathematics offered both at RS Components and through its wide and varied customer base.
The students were let loose on tablets with apps to control high-powered crab-like robots called Mekamons and were given free reign to see what they could make the robots do! They also took part in a competition to build what looked like mini-daleks out of plastic cups, wooden skewers, blu tack and 'spheros' and use the app controls to get their creations to pop a balloon!
They also visited Titan II, RS Component's incredible exhibition truck where they had access to Virtual Reality headsets, as well as getting the chance to sit in a racing car! There were freebies galore at the stands in the marquee and the opportunity to hold giant African snails, giant millipedes, cockroaches and stick insects in the 'Critters area'.
All the students had a great day and learnt so much about the abundance of possibilities within these areas of industry. We are very grateful to RS Components for the chance to visit and hope next year to take a lot more students. With so much to offer we are sure that STEMfest will go from strength to strength!
To see more photographs click here.