Author Ben Davis visits BWA
24/07/2019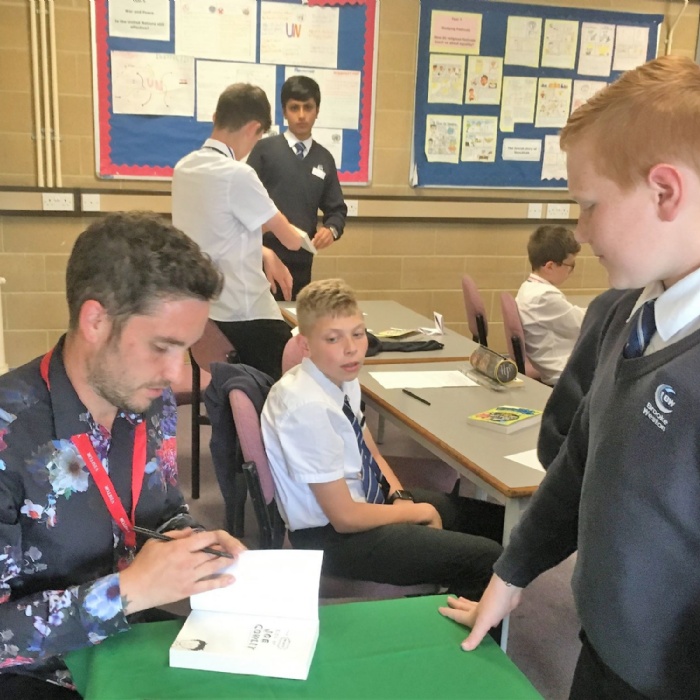 Author Ben Davis spoke to Year 7 and 8 students at Brooke Weston Academy about his writing career and presented prizes to winners of the Academy's reading challenge.
Ben is the author of eight books including the best- selling Private Blog of Joe Cowley book series which has been hailed as the Wimpy Kid for the new generation. His most recent book 'What's That in Dog Years?' which has just been published, is a humorous but heartbreaking story about the adventures of Gizmo the dog and his owner George.
He talked to all students in year 7 and 8 and also led creative writing workshops encouraging students to find ways to take their own ideas and develop them into stories. He talked about how he got his ideas for his books from exaggerating real life experiences and, in particular, talked about how embarrassing situations and family members could be made into stories. He then asked the students to share their embarrassing experiences…and there were plenty of them!
Ben also read extracts from his books and included a scene with a dad, who thinks he's a survival guru, trying to teach his son how to survive in the forest with hilarious results and an awkward moment with a kiss, braces and a lip piercing!
He told students how he got the idea for his first book: 'I was at work when I had the idea for my first book, The Private Blog of Joe Cowley, I was a postman. I was coming towards the end of my round when I realised I was delivering to the house of someone I went to school with. By being a bit nosy and looking at the envelopes, I noticed that his dad was in a relationship with a woman with the same surname as one of the worst school bullies. Straight away, an idea popped into my head. What if that happened when you were a kid? How would you deal with sharing a house, or even a bedroom with your worst enemy?'
Ben says he always enjoyed reading as a child and his favourite book was Matilda. The piece of advice he gave students with aspirations of becoming an author, was to read as much as possible.
At the end of his talk Ben presented the Year 7 boys who were in the top four teams of the Premier League Reading Challenge with their medals. Leicester were in 4th place, with Everton in 3rd, Bournemouth were runners up and Chelsea were crowned 2019 champions. Top goal scorer was Jackson Chen who scored 52 goals and Manager's Player was awarded to Harrison Saini who received a £10 Sports Direct gift card. All players in the top four teams also received a signed copy of one of Ben's books and the champions each received a £10 Sports Direct gift card. Thanks to everyone who took part in this year's Challenge and to the PE department for their support in supervising the football matches.
To see pictures from the event click here.