BWT celebrates another year of A Level success
15/08/2019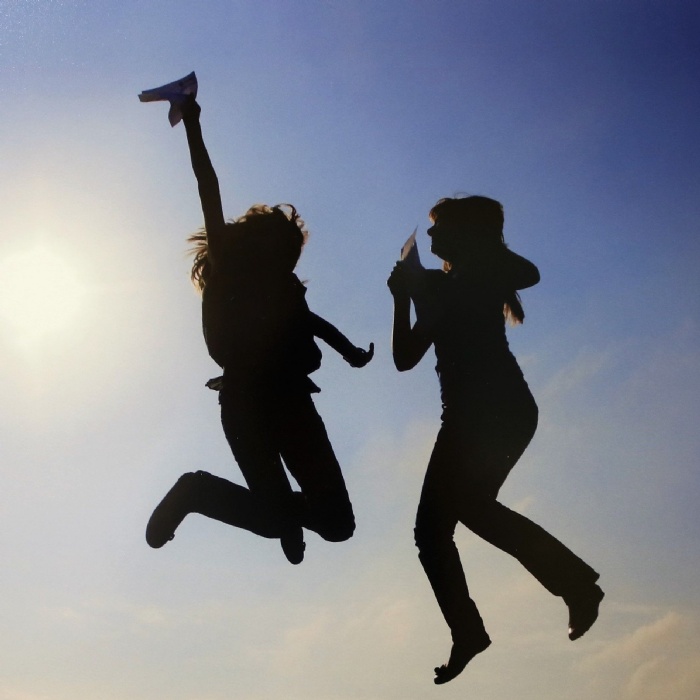 Students and staff from across the Brooke Weston Trust are celebrating A Level exam results today with a record number achieving straight A* or A grades.
Most will progress to further education with our highest performers destined for Cambridge and prestigious Russell Group universities studying subjects including medicine, veterinary medicine and astrophysics.
Brooke Weston Academy is celebrating its best-ever A Level results. Corby Business Academy achieved an almost 20% increase on students attaining A* to C grades, also their highest such results ever. 2019 is also a milestone for Corby Technical School as its first-ever cohort receives their results and multiple students got into Russell Group universities. Kettering Science Academy continues its sustained improvement with another significant improvement on last year's results while at Thomas Clarkson Academy six students are likely to attend Russell Group universities, outstripping last year's success.
Brooke Weston Academy is celebrating another exceptional year of Post-16 results with outcomes exceeding all of last year's headline measures.
85% of students achieved A*- C grades and almost 60% of entries were graded at A*/A/B. Students studying applied qualifications performed exceptionally well, with all students achieving A*-C equivalents in their subjects.
The three top performers all achieved 4 A*/A grades and a further 17 students achieved at least 3A*/As. Almost 90% of leavers are going on to university, 40% to Russell Group destinations with many studying medicine.
Principal Pete Kirkbride said, 'These results are the culmination of an amazing team effort between the students, parents and all of the staff at Brooke Weston Academy. We wish all of our students every success in the future.'
At Corby Business Academy 58% of students were awarded A*- C grades, an almost 20% leap from last year. Nearly a third of students also attained A* - B grades, another 10% jump from last year, and the overall average grade has increased significantly. There were also strong individual performances with one student, destined for Cambridge. There were strong performances in subjects including Business, Media, History and Sport.
Heads of School Simon Underwood and Nicola Treacy said: 'We are extremely pleased with the students' efforts this year, we are all very proud of their achievements.
'The increases in overall results are testament to the hard work of the students and dedication from the Academy's staff; it is also important to recognise the commitment and support from parents and carers alike.
'To see so many of our young people move to destinations of their choice is very satisfying, we wish them all the best in their next endeavours.
'The results are indicative of the progress that the Academy is making in its overall provision. We are determined that we will continue to go from strength to strength and provide our community with a high quality educational environment.'
Corby Technical School students achieved well across the board. The school's four highest performing students attained a combined A*, 6As, 4Bs and a C grade and most achieved three A Levels.
Principal Angela Reynolds said: 'I'd like to congratulate this very special cohort as they are the first ones to complete their full secondary education at the school. This is a really good set of results by our students, who worked hard to achieve these grades, with the help of our excellent and committed staff.'
Kettering Science Academy is celebrating significant improvements on last year's figures with 67% of all grades awarded A* - C and the overall average grade rising to a school record of C+. 44% of grades were awarded at A* - B, another big increase. There were strong performances in Maths, Physics, Chemistry, Biology and Media and, over the last two years, students have improved half a grade in every subject studied. One student has secured a place to study veterinary medicine, making her the first vet in KSA's history.
Principal Tony Segalini said: 'I am so pleased that our Year 13 students have done so well. I am proud of them all as well as our dedicated hardworking teachers. KSA is going from strength to strength and our Sixth Form is a great place to study post 16.'
Staff at Thomas Clarkson Academy are delighted that even more students secured places at Russell Group universities this year, and are going on to study subjects including Maths, History and Environmental Science at some of the country's top universities.
The Academy is particularly pleased with its 100% pass rate in a wide range of subjects including A Level Mathematics, Chemistry, English, History and Art.
Associate Principal Richard Scott said: 'The increasing number of students who are gaining places at Russell Group universities is testament to the shared ambition which underpins all that we do at Thomas Clarkson Academy.'
Brooke Weston Trust's Secondary Executive Principal, Anne Hill said: 'The results that our schools are celebrating today demonstrate the hard work of students and staff and many of our schools have attained either their best-ever results or strong year-on-year progress. We have a culture of collaboration across our schools which is delivering improved outcomes for all our students. These results are a testament to the hard work of our school communities.'
Brooke Weston Trust's CEO, Dr Andrew Campbell said: 'Well done to all those who are celebrating their results today and thanks to the staff and senior leadership of our schools whose hard work throughout this year has enabled the majority of our students to access their first choice of university or career. We wish them the very best for the future.'