Chantal is CBA's first ever student to secure a place at Cambridge
22/08/2019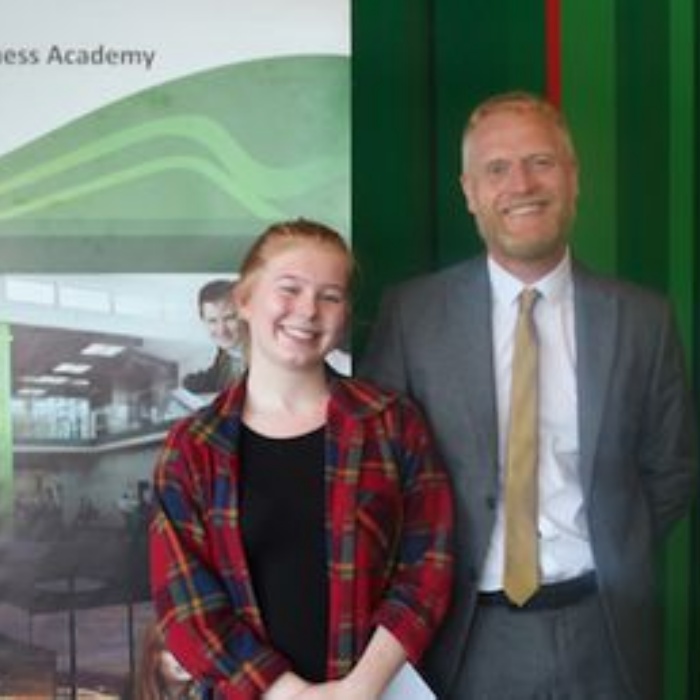 Chantal achieved two A*s in Art and Psychology, an A in English Literature and a B in Maths at A-Level and secures her place to study Psychlogy and Behavioural Science at St John's College, making her the first student from Corby Business Academy to study at Cambridge University.
She said: 'I am ecstatic with my results, it is amazing. I am in shock and have exceeded the grades I needed to get on the course, which is pleasing to know. I am extremely proud of my A* in Art as it was unexpected and people say how difficult it is to achieve an A* in the subject.
'I have always been passionate about psychology and started thinking about university options in Year 12 and where would be the best place to study. I had never thought of Oxbridge but the course kept coming up and really appealed to me as the content was so broad and you could choose your optional papers. I thought if I liked the course why can't I study there.?
'I started revising in Year 12 and studied constantly in Year 13, sometimes only having an hour or two to myself at night. The application process was also quite lengthy and you had to go the extra mile; it is a lot of work on top of your studies. For me the process involved a personal statement, two interviews, work experience and summer schools but it was well worth it and I think it's great that the university want to see that you are as passionate about the subject as they are. I am really looking forward to studying at Cambridge and the overall experience it has to offer and being in the beautiful historical surroundings.
'After I finish my degree I want to pursue a career where I help others and I am considering fields such as counselling or mental health, something in which I can draw on my own personal experiences as well as the skills I will acquire during my time at Cambridge. I am also keen to see the other types of careers the course exposes me to.
'I've been through some difficult times in my past but this has made me more determined to succeed. Whilst others could have gone down a different route, education has kept me focused and has been my driving force. I am the first in my family to go to university and I am so pleased to have secured a place at Cambridge where I know I am going to be taught by the best. I would like to thank all my family who have been incredibly supportive as well as my teachers Mrs Anderson and Miss Boyd for all their support.'
Chantal's mum said: 'It is amazing and I am over the moon; I could just burst with pride. She has spent the last year just constantly studying. She is totally dedicated and has such a passion for learning. The whole family wanted to come and support Chantal on the day; there was no way we were going to take no for an answer. I can't even put into words how wonderful it is for her.'
Head of School Simon Underwood said: 'Chantal's journey is one that all young people should take note of, it is truly inspirational. Her hard work and devotion to her studies is a testament to the importance of a positive mind set and clearly shows that education can change people's lives.
'I know that all the staff at the Academy are extremely proud of her achievements and her peers have also enjoyed seeing Chantal accomplish a personal dream. It was a pleasure to witness the family celebrations and their sense of pride. Well done Chantal.'