Brooke Weston Trust Sports Awards 2017
05/12/2017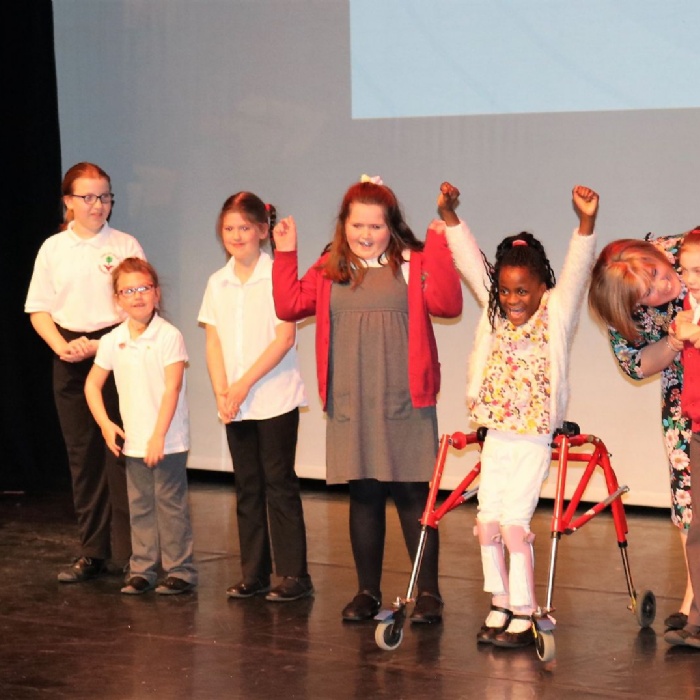 Athletes and sports teams from across our Trust schools had their talents and achievements recognised at last night's Trust Sports Awards.
The event, at Corby Cube, was attended by hundreds of students, parents and teachers and there were also specially invited guest speakers and acts, which added to the success of the evening, organised and hosted by our Trust Director of Sport, Kirstie Smith.
Tennis player Jade Windley spoke about her career and setbacks and encouraged our students to
always aim high. Freestyle footballer Jamie Knight gave a great demonstration of his skills and invited Executive Principal John Henrys onstage to learn how to balance a football on the back of his neck while performing a press up!
Footballer Alistair Patrick Heselton gave an inspirational talk about his professional career as a footballer was nearly shattered after a car accident. However he determinedly resumed his career to become a silver Paralympic medallist and Sky 'Living for Sport' mentor.
All three special guests presented the awards while Miss Smith read out all the sporting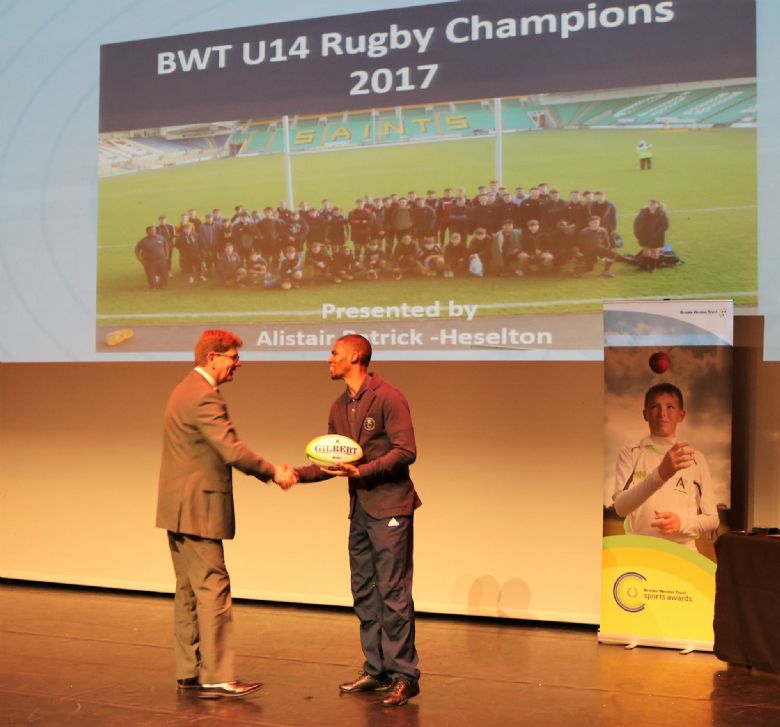 achievements of the nominated students. Thanks to everyone who made the evening so special, including the dancers from Thomas Clarkson Academy who did two routines.
Our Trust CEO, Dr Andrew Campbell was presented with a signed rugby ball from Northampton Saints. He commended the nominated students on their achievements.
Pictures from the evening can be accessed here.
The winners were:
BWT Participation and Achievement Award
KS2: Oliver Greenwood Gretton
KS3: Harry Smith Kettering Science Academy
KS4: Elisabeth Szekelyova Kettering Science Academy
BWT Outstanding Contribution Award
KS2: Change for Life Club Oakley Vale
KS3: Courtney Daniels Corby Technical School
KS4: Chloe Morgan Corby Business Academy
BWT Sports Leader of the Year:
KS2: Sports Crew Gretton
KS3: Hania Mazur Brooke Weston Academy
KS4: Sophia Shorrock Brooke Weston Academy
BWT Sportswoman of the Year:
KS2: Sophie Tjurina Peckover
KS3: Annabel Thompson Brooke Weston Academy
KS4: Iulia Petre Corby Technical School
BWT Sportsman of the Year:
KS2: Bradley Paul Beanfield
KS3: Danny Grieve Thomas Clarkson Academy
KS4: Austin Reed Kettering Science Academy
BWT Team of the Year:
KS2: Years 5/6 Sitting Volleyball Team
KS3: Year 7 Girls Netball TCA
KS4: Year 11 Futsal Brooke Weston Academy
BWT Sports Festivals
Years 1 and 2: Peckover Primary
Years 3 and 4: Gretton Primary
Years 5 and 6: Compass Primary
Year 7: Brooke Weston Academy
Year 8: Kettering Science Academy
Year 9: Brooke Weston Academy
U-14 Rugby winners:
Brooke Weston Academy
U-14 Cricket winners:
Brooke Weston Academy