Oakley Vale awarded Good judgement by Ofsted
07/06/2017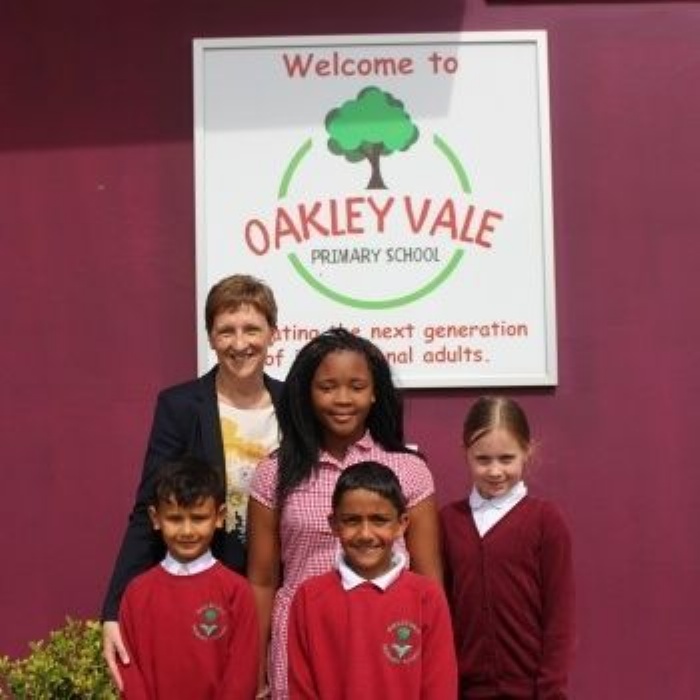 Well done to staff and students at Oakley Vale Primary School, which has been awarded a 'Good' judgement by Ofsted Inspectors. The school has a 'happy, calm and friendly' environment and its leadership, staff and the input of the Brooke Weston Trust were all praised.
Oakley Vale secured good judgements across the board in five key areas and it has 'undergone a significant change in culture, ethos and ambition' since its last inspection two years ago when it was judged as 'requires improvement.'
Inspectors found that 'staff are highly motived to work together to improve their practice', they 'plan interesting lessons and the curriculum is enriched by a wealth of stimulating activities.'
The Principal, Emma Goodwin, 'provides an excellent model of leadership … ably supported by her vice principal, governing body and the Director of Education' from the Brooke Weston Trust … 'Their shared vision, drive and determination have been key to the improvements made.'
Governors are 'ambitious' for the school's future and provide 'appropriate challenge.'
The curriculum is 'broad and enriched by numerous activities' and the quality of teaching and learning is good with teachers and teaching assistants working well together. Inspectors found that 'relationships between staff and pupils are warm and caring' and students feel safe in school. Attendance rates are rising rapidly.
Outcomes for students were good with standards of reading and writing in KS1 improving over the last three years and student achievement at the end of KS2 having steadily improved: 'Pupils across the school are making good progress in a wide range of subjects. They make more progress in English and maths than in other subjects' while history is a 'particular strength' of the school.
Early years was a key area with 'a stimulating learning enviroment' good teaching and 'creative lessons that enthuse and motivate children.
Principal Emma Goodwin said: 'My staff and I are delighted with this report which shows that interventions that we have put in place are paying dividends. The inspectors recognised that we are a happy and improving learning environment and we are committed to continuing to improve still further. Thanks to the input of the teaching and support staff for all their hard work and enthusiasm in ensuring the best outcomes for students. The Director of Learning and support of the Brooke Weston Trust have also been instrumental in our progress.'
Brooke Weston Trust's Director of Education, Trish Stringer said: 'This is a phenomenal report that recognises the hard work, vision and high expectations that we have for Oakley Vale. Emma and her team of teachers have done incredibly well to produce such a significant change in a relatively short amount of time so I am delighted that their talents and effort have been recognised in this Good judgement. Congratulations to them all.'