Trust Director tours CTS new build
20/07/2017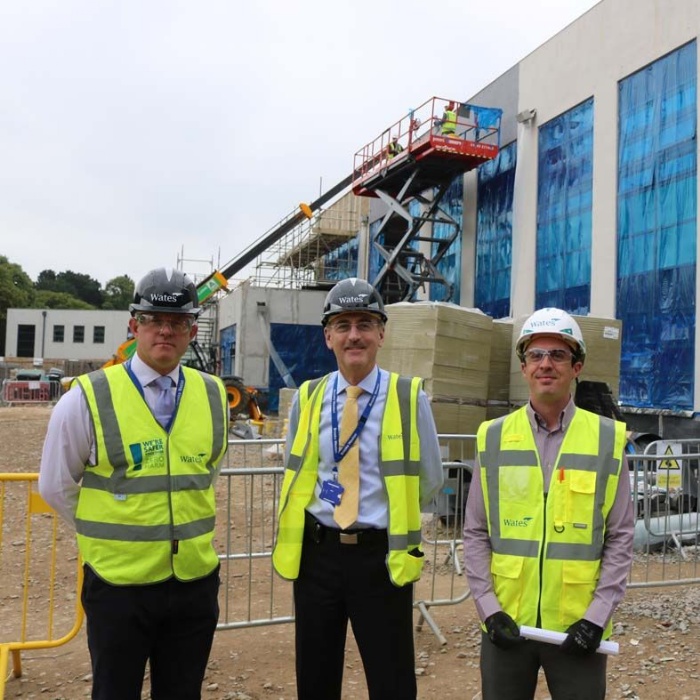 Trust Director Mr Phil Harris-Bridge toured Corby Technical School's new extension which is due for a phased completion over the next few months.
He was accompanied by Trust Estates Director, Matt Isherwood, and Mr Martin Broomfield, the project manager from Wates. Mr Harris-Bridge learned more about the refinements being installed in the building including photo-voltaic panels on the roof and energy efficient lighting and heating systems which will make it as cost-efficient as possible.
The extension comprises 20 new classrooms, a drama theatre, lecture theatre, a dedicated Sixth Form area and office space. It will more than double the size of the existing school and is due to be handed over in a phased delivery where students will be able to access some of the site while the rest is completed. The build is on schedule to enable them to fully occupy the space in October.
Mr Isherwood said: ' The actual construction is now complete so there are up to 80 contractors on site fitting out the build to a very high standard. It has been constructed to a tight brief and we have managed the project on cost, time and quality. It is on budget, on time and the quality is second to none.'
Mr Harris-Bridge said: 'It is remarkable to see the amount of progress in such a short space of time. I was here in February when it looked like a shell and now it is looking like a Brooke Weston Trust school. The quality of the workmanship and the layout is excellent. It is an excellent resource and a great addition to secondary education in Corby.'
A full gallery of pictures is available here.