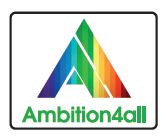 Ambition for All focuses on improving academic outcomes and opportunities for character development. It underpins, reinforces and celebrates the first, and most important, of our Trust core values.
Ambition for All is about a mindset as much as a set of actions. It applies to all areas of our operation to ensure students receive the highest quality teaching and wider development opportunities within a supportive and encouraging environment, where adults live and breathe ambition for student success in all its forms. Implicit within this approach is a focus on the progress of disadvantaged students and of high ability students, whatever their background.
This campaign is also about enthusing and enabling our staff to be their best, to have the heart, passion and drive to engender Ambition for All and to model that in the classroom and beyond in practical and innovative ways. For staff Ambition for All will represent a commitment by the Trust to offer professional development, wider experiences beyond their current employment and assist with the next steps towards their personal career goals. Ambition for All will be the beating heart of the Trust's operation.
Each Academy Principal, Chair of Governors and our CEO Dr Andrew Campbell signed a personalised pledge for each school which they display prominently. There is also Ambition for All signage in all 450 of our Trust classrooms.
Key areas of Ambition for All in schools:
To embed Ambition for All throughout our operation we have four interlinked strands of the project to include:
• Personal Development for staff and students
Broadening experiences/curriculum enrichment, a wider range of opportunities for all students: cultural, sporting, and aspirational; high attendance and high engagement, personal and professional development
• Strong Leadership
Strong LGBs to support and challenge, training and development for current/aspiring SLT and Middle Leaders, Ambition For All as a standing item on every LGB meeting agenda with specific focus on progress of disadvantaged and more able students
• High Quality Teaching
Quality training, innovation, stretch and challenge for and by teachers, highly effective classroom practice, curriculum alignment, working together
• Great Progress and Outcomes
Student targets from a common BWT flightpath, rigorous assessment and tracking, effective targeted intervention, data driven improvement
Ambition for All news and photo-galleries:
Please visit our News section, or our Twitter or Facebook feeds to see our latest stories celebrating the best of Ambition for All.