BWT leaders celebrate completing Leadership Academy programme
16/02/2023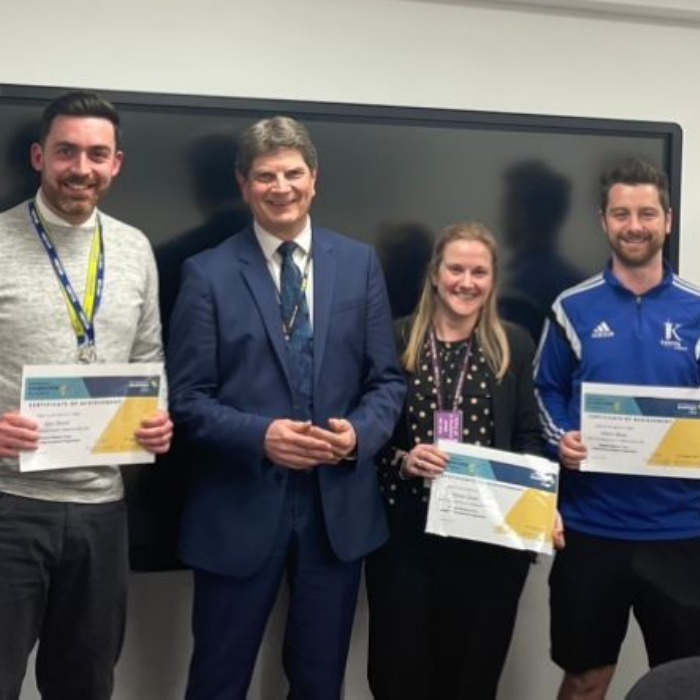 This week, ten leaders from across the Secondary and Primary Schools in the Brooke Weston Trust (BWT) gathered to celebrate completing the BWT Leadership Academy programme.
The Leadership Academy programme is a unique opportunity only available to BWT staff and was the first of its kind in the country. It develops the skills of our leaders and enables them to become a successful future leaders of BWT.
During the celebration, refreshments were flowing as leaders gave a short presentation about their leadership journey and received their official certificates signifying that they'd completed the programme.
Some of our favourite quotes from the presentations included:
"I was proud to be accepted onto the Leadership Academy programme and to be part of this group, working with other motivated and ambitious professionals."
"When I experienced the psychometric testing, it highlighted for me that I had some areas of low confidence in my own leadership, but hearing someone independent say I had some key strengths really helped me shake off the imposter syndrome."
"The Leadership Academy made me think about what my underpinning values are and helped me to realise I am values-driven, so I will hold on to these values throughout my leadership."
"The unique element to the course is the sense of allowing your aspirations to drive and shape it. The Leadership Academy is different to the NPQH in that way."
Jane MacDonald, Chair of the Leadership Academy Steering Group, said: "We're incredibly proud of our leaders graduating from the Leadership Academy programme today. They have all shown that their leadership skills and knowledge have developed considerably since they joined the Leadership Academy and we can't wait to see what they go on to achieve."
The Leadership Academy is a commitment to believing and investing in BWT colleagues, supporting them to become the excellent leaders they have the potential to be. The programme also helps participants to plan a successful career within the rapidly developing multi-academy Trust systems and structures of today and the emerging structures which will exist in the next ten years.
Applications for the 2023/24 cohort are expected to open early in the Autumn term. In the meantime, if you'd like to find out more about the programme, please visit: https://www.brookewestontrust.org/leadershipacademy.