Brooke Weston Trust leaders celebrate another successful Leadership Academy programme
21/06/2023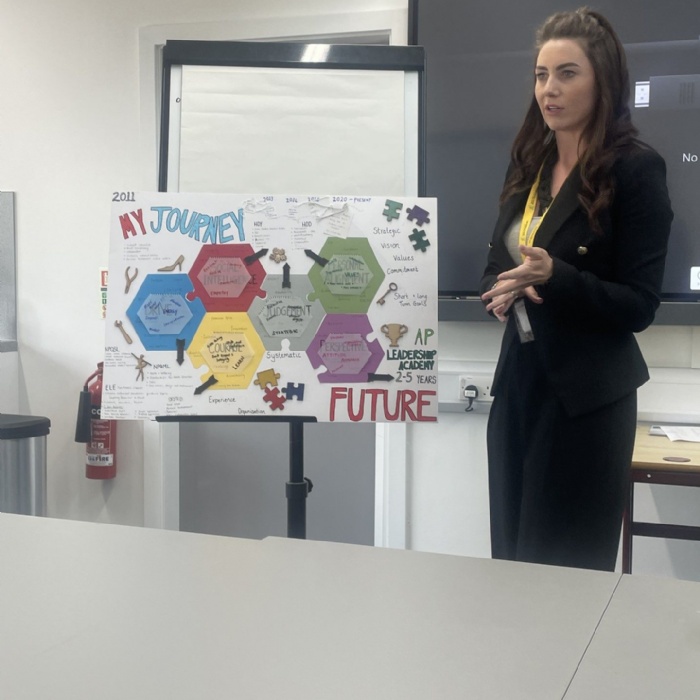 Last week, 22 leaders from across the Trust gathered to celebrate completing the BWT Leadership Academy programme.
The Leadership Academy programme is an exciting initiative available to Brooke Weston Trust (BWT) staff, designed to nurture talent and ensure collaboration across our family of schools. The programme has gone from strength to strength since its inception in 2018, with recent graduates forming the third cohort to successfully complete the Leadership Academy programme.
Over the two-year programme, staff attended a series of bespoke training sessions with a range of guest speakers. Delegates explored a variety of topics, including leadership characteristics, governance, collaboration, and accountability, and took part in mock interviews and shadowing opportunities to help solidify their learnings in 'real world' scenarios.
Before the attendees received their official certificates, signifying that they'd completed the programme, they split into groups and shared presentations about their leadership journeys.
Some of our favourite quotes from the cohort included:
"My epiphany was really understanding the difference between management and leadership. Managers get people to do what they need to do. A leader is someone who inspires a workforce."
"I found Dame Kathy August's session instrumental in my development. I learnt how it is important for everyone to be able to articulate key priorities."
"The programme has enabled me to reflect upon my practice as a leader, develop and refine my leadership skills over time whilst providing the unique and excellent opportunity to hear from a range of leaders across multiple contexts. The programme is truly unique and an excellent opportunity for all leaders."
"It's given me more than I realised and so much of me is different now because it. You only see that when you really think about the experiences and reflect."
"I think this experience was nothing like any other CPD I have experienced and has proved invaluable in helping me progress in my career."
Jane MacDonald, Chair of the Leadership Academy Steering Group, said: "This year's cohort of graduating leaders have all embraced the opportunity to develop their skills, both personal and professional, and enhance their knowledge of the fundamentals of leadership. We are incredibly proud of them all, and hope that the Leadership Academy enables them to become the successful future senior leaders of Brooke Weston Trust. We can't wait to see what they go on to achieve."
The Leadership Academy is a commitment to believing and investing in BWT colleagues, supporting them to become the excellent leaders they have the potential to be. The programme also helps participants to plan a successful career within the rapidly developing multi-academy Trust systems and structures of today and the emerging structures which will exist in the next ten years.
The next cohort of the Leadership Academy will be launched early in the Autumn Term and we look forward to working with another group of aspirational and ambitious professionals from across our Trust.
To find out more about the programme, please visit: https://www.brookewestontrust.org/leadershipacademy.